On the face of it, packing for your first ski trip should be easy. Surely all you'll need is some of your warmest items: a few jumpers here, a thick pair of socks there. It'll just be like packing for a cold winter's day. Yet, as you begin to picture yourself sashaying down Tignes' snowy runs, reality dawns: what is it exactly that skiers wear? Can you really glide down the slopes in a pair of skinny jeans? Or slalom your way across the French Alps in yoga pants? Will your latest Topshop gloves really help in those sub-zero conditions? Suddenly, what to pack for your first skip trip seems a vacation-inspired nightmare; a snowy code you just can't crack.
Before my first ski holiday to Chamonix in 2011, I was also very confused. A complete stranger to the world of family ski holidays and Christmas breaks spent off-piste, I had absolutely no idea what to pack for my first ski holiday. I was an outsider, a ski trip novice.
Thankfully, several ski holidays later, I now have a fairly good idea of what to pack for a ski vacation. Of course, ever the over-packer, I'll always take with me a number of redundant items (a small portable torch and whistle, for example), but on the whole, I manage to pack fairly sensibly.
So, before you throw all your knitwear inside your suitcase and consider skiing in a cashmere jumper, take a read of our guide on what to pack for your first ski trip. We hope that it saves you space, time and hopefully – that favourite sweater of yours.
What To Pack For Your First Ski Trip
Packing Advice
What Suitcase To Take Skiing: The Victorinox Spectra Range
It might seem a little obvious that ahead of your trip, you're going to need a suitcase. But before you move onto the next section, let me explain.
When I began packing for my first ski trip, it wasn't long before I realised that my trusty old suitcase just wasn't going to cut it. Unsurprisingly, nearly everything I packed was incredibly bulky: fleeces, jumpers, salopettes, thermal layers and jackets seeming to expand like miniature hot air balloons. My case had become a mountain of mohair and breathable fleeces, with no room for anything else.
Now wise to this winter-wear curse, I book both hold luggage and take with me a cabin sized suitcase as hand-luggage. In the carry-on case I take all the smaller, more manageable items, so that the larger suitcase is entirely free for the big, chunky pieces.
This also helps with weight restrictions; particularly as ski clothes tend to tip the scales a little. Try to therefore offset this by storing as many non-liquids as possible in your carry-on case.
Lately, I've been using the Spectra suitcases by Victorinox. Unbeknownst to me, travel luggage can win awards – and the Spectra was honoured with nothing less than the 2014 Red Dot Award for Design Excellence. Indeed, this little suitcase is something of a hard-shell celebrity.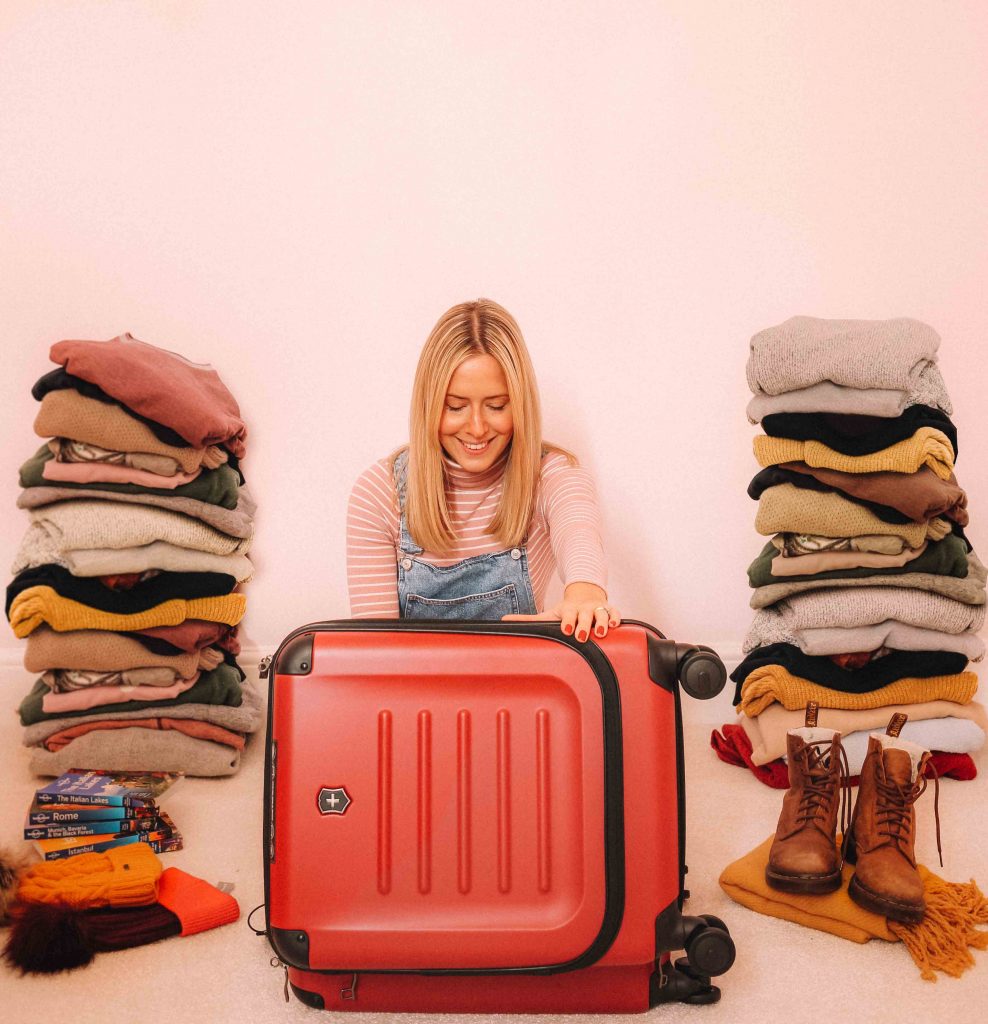 The model I use is Victorinox's 'dual-access' global carry-on case, which comes complete with its own 'quick-access' door at the front. With no need to open up your entire case to rummage around for your passport or laptop (underwear flying everywhere), instead you can store these items in the front of the case, unzipping the compartment like a little door.
The Spectra case is also nimble and light, gliding alongside you like a sophisticated friend. Weighing in at just 3.2kg, it means that you have more weight allowance to play with – allowing you to stash more of your non-bulky items inside it.
In my Victorinox Spectra suitcase I tend to pack: my ski socks, scarves, snood, goggles, sunglasses, hat, gloves and thermal layers, freeing up room in the main suitcase for my larger items. I also make sure I wear my ski jacket to the airport, to avoid having to pack it (it would probably need a suitcase of its own). Lastly, and if by chance you're considering taking your own skis or boots (perhaps unlikely if this is your first ski trip), then I'd recommend using the ski or boot bags to store other soft items – underwear, socks and the like.
Alongside ensuring you divide your clothes and accessories between carry-on and hold luggage, I'd also suggest that you swat up on space-efficient folding tips, to ensure you're not defeated by the mountain of knitwear in front of you. Alternatively, use luggage compressors – something I swear by. You can read a useful review of one brand of these here.
What to Pack in Your Hold Luggage
Now that you've narrowly avoided packing disaster, you should focus on packing the ski essentials: those items of clothing that must come top of your list of what to pack for your first ski trip. As these will inevitably be the larger and bulkier items, be sure to pack them in your hold luggage.
Salopettes
Waterproof, padded and warm, salopettes are like wearing a custom-made sleeping bag, and must come top of any list of what to pack for your first ski trip. Much more than mere waterproof trousers, salopettes ensure your legs stay warm when skiing and provide a small (but vital) layer of cushioning for those inevitable tumbles.
I've personally always preferred salopettes that have an inner, elasticated lining at the bottom – allowing you to tuck them securely into your ski boots. When I've worn ski pants that haven't had these, I've found much more snow has found its way up my trouser leg. Unsurprisingly, it makes for a very chilly and unpleasant experience.
My current salopettes are from Colmar and (currently) have 30% off.
Thermals or Base Layers
On my first ski trip to Chamonix, I didn't pack any thermals. For some unknown reason – and as a total outsider to life on the mountains – I assumed that my three cotton vests from H&M would suffice.
Plot spoiler: they didn't.
Thermals come in a range of materials and as such, a range of prices. Traditionally, merino wool thermals are touted as the best in the business: keeping you not only warm, but allowing your skin to breathe and cool.
For our last ski trip to Tignes, I wore this incredible base layer set by Sweaty Betty. Incredibly lightweight and soft, yet also keeping me wonderfully warm, I found myself washing them each night just so I could wear them again the next day.
A quick note: although it is hard to believe, you will find yourself sweating when skiing. The combination of intense leg work, thin mountain air and – perhaps – fear, will inevitably leave you feeling like you've just left the gym. As such, make sure you pack at least two pairs of thermals, to make sure you stay fresh throughout your ski holiday.
Just One Good Fleece (Your Mid-Layer)
When it comes to packing for your first ski trip, think: layers. Like a glorified onion, you want to hit the slopes boasting a fine medley of breathable, yet warm clothing. The reason? You'll experience a superhuman range of temperatures whilst on the slopes, oscillating from bone-chillingly cold to red hot – and back again. As such, you want to be able to shed, or build upon, these layers quickly and easily.
With your thermals offering a warm base layer, I tend to simply layer these with a good quality (and lightweight) fleece. After that comes my ski jacket. I don't tend to wear much else in between, and if you get your thermals and fleece right – you won't need to.
I'd recommend keeping your fleece lightweight and zippable at the front, in case you get too warm. There's nothing worse than wrestling to remove your fleece whilst atop a mountain. My fleece is a simple and relatively cheap one from Trespass, but ensures that I need to wear little else over my base layers.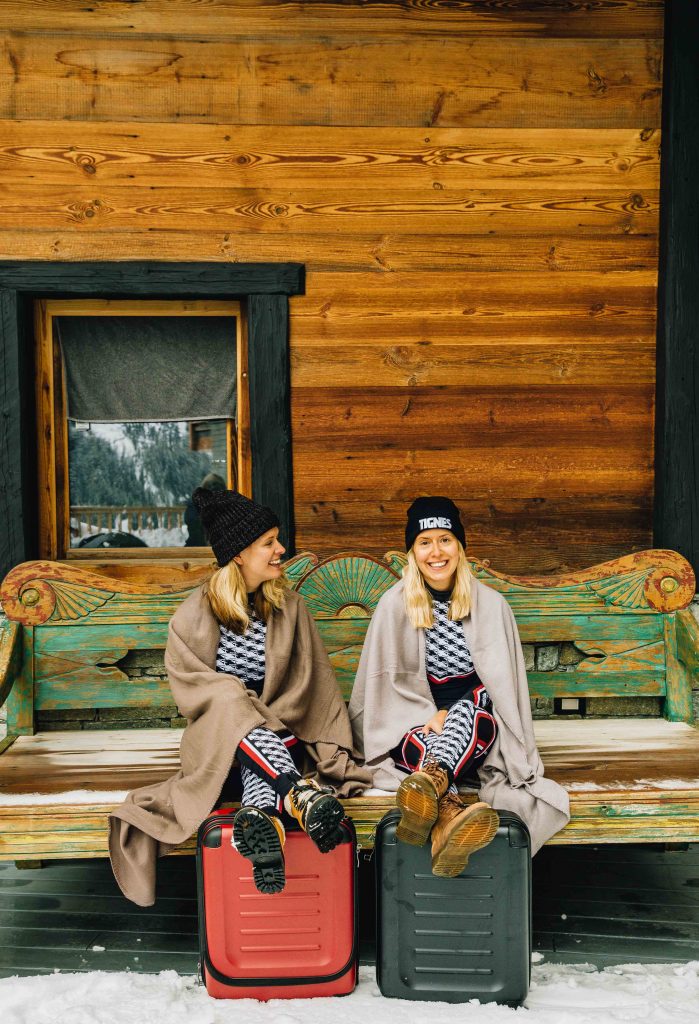 Clothes for Apres Ski
Apres ski is something of a ski holiday institution (and an utter mystery to those who have never skied before). A little like an initiation ceremony, the apres ski experience must be completed by all those taking their first ski holiday; welcoming them into the fold via mulled wine and live music.
In short, apres ski is a little like going for drinks after a long day at work. With the sun setting behind the mountains and skiers making their final descents, groups head towards the local bars and pubs to warm their cockles over a drink (or three).
There are two types of people who attend apres ski: those who simply arrive in their skiing gear; jackets off, snow steadily melting in puddles around their feet. It's all very casual and there's no need to worry about changing (although, I would recommend packing a pair of alternative shoes in your backpack, so you don't have to stagger around in your ski boots all evening).
Alternatively, there are those who go back to their chalets and change before heading out for a drink. Although apres ski can often go late into the night – people dancing on tables and music pumping – the whole affair tends to be very casual.
I'd therefore recommend that you simply pack one or two pairs of jeans, a few of your favourite jumpers (although, be warned, it can get hot in the bars) and one or two lightweight tops (T-shirts., etc). This should largely have you covered. You might also want to pack a separate hat, gloves and scarf for the evenings – rather than wearing those that you've been wearing throughout the day.
Swimwear
Nothing goes together quite like arctic conditions and a bare-all swimsuit. Indeed, after a long day on the slopes, and with tired and heavy limbs, most people tend to head to the warm sanctuary of a steam room or sauna to wind down.
Most chalets and hotels offer these facilities; the scent of warm pine and hot coals an integral part of mountain life. Although it might not be top of your list of what to pack for your first ski trip, this little garment is an item you won't want to forget.
What To Pack in Your Carry-On Case
With your hold luggage now filled with your larger items of clothing, ensure that you use your carry-on luggage (in our case, the Victorinox Spectra Dual-Access Global case), to accommodate all those smaller items.
Ski Goggles and Sunglasses
We can all recognise the tell-tale sign of a regular skier: the notorious 'panda eyes'. With the snow a glistening white and the sun high in the sky, skiing can make for a blinding – and vaguely tropical – experience. As such, it's important you remember to pack either ski goggles, or a pair of sturdy sunglasses.
Personally, I prefer to wear ski goggles. The weather on the mountains is often changeable; dazzling sun replaced by a disorientating snow storm in less than an hour. When the wind picks up (and remember, it is bitingly cold) and the snow begins to fall, sunglasses are of little use in protecting your eyes. Goggles therefore offer you far more protection and comfort.
I've used the same pair of ski goggles since my first ski trip, and actually bought them second-hand from eBay. Often proving quite costly (you can pay upwards of £100 for a good pair of ski goggles), I'd recommend that if this is your first ski trip, you also look into getting a pre-loved pair. If you decide that skiing is your new favourite pastime, you can always upgrade a little later.
Ski Socks
I cannot stress the importance of the humble ski sock enough. Although your feet will be well protected inside your ski boots (if they are fitted properly), it's surprising just how much cold manages to creep its way in. As such, the right ski socks should be top of your list of what to pack for your first ski trip.
A quick note: it can be tempting to go overboard with the sock situation; piling layer upon layer of socks on. Do not do this. If your feet are too bulky, not only will you find it difficult to fit inside your ski boots, but you'll also find yourself in a lot of pain – the circulation to your toes severed (trust me, I've been there). I only wear a pair of normal cotton socks and one pair of quality ski socks, and my feet are always warm and happy.
I bought my ski socks from TK Maxx: a store that offers fantastic prices for what can be surprisingly expensive socks.
Ski Gloves
Again, quality counts when it comes to ski gloves. With your hands wrapped around your ski poles for the majority of the day, your fingers become incredibly susceptible to the cold. As there is nothing worse than aching, bitingly-cold hands, I've always been happy to invest a little more in my ski gloves.
I tend to wear two pairs of gloves when skiing. The first pair are thin 'liners', which help to closely insulate my hands. The second are a more traditional (and much larger) pair of gloves, designed especially for skiing. Together, both work incredibly well in keeping my hands dry and warm; and I can remove the larger pair if the temperature heats up.
My current favourite gloves are these silk glove liners from Decathlon, followed by the brilliant 'Big Bear' gloves from Roxy (which currently have 30% off).
Snood/Balaclava
I have never skied wearing a scarf. As soon as I'm tucked inside my ski jacket – zip pulled high – the idea of wearing a bulky, knitted scarf seems incredibly irritating. Instead, I tend to wear a soft, fleece-based snood and – when the weather is truly awful – a balaclava.
The snood is easy to wear and can be rolled down if you're feeling a little warm (or, as I've found, used to hold your hair back over lunch). The balaclava, although perhaps making you feel like a ski-based criminal, will also prove nothing short of a godsend when the wind is stinging your face and the fear of frostbite sets in.
What To Wear To The Airport (And Not Pack)
A (Quality) Ski Jacket
It really is worth investing in a great quality and lightweight ski jacket, despite the obvious price tag. When packing for my first ski trip to Chamonix, I thought I'd get by just wearing a fairly cheap winter jacket that I got in a sale. A few days later, and nearly 4,000 metres above sea level, I immediately regretted this decision.
A good ski jacket should not only keep you warm (particularly against the mountainside winds), but should allow you room to breathe and cool down. One thing I hadn't appreciated about skiing was just how hot I would get: often finding myself drenched in sweat at the end of each day (and not simply due to my ski-related anxiety).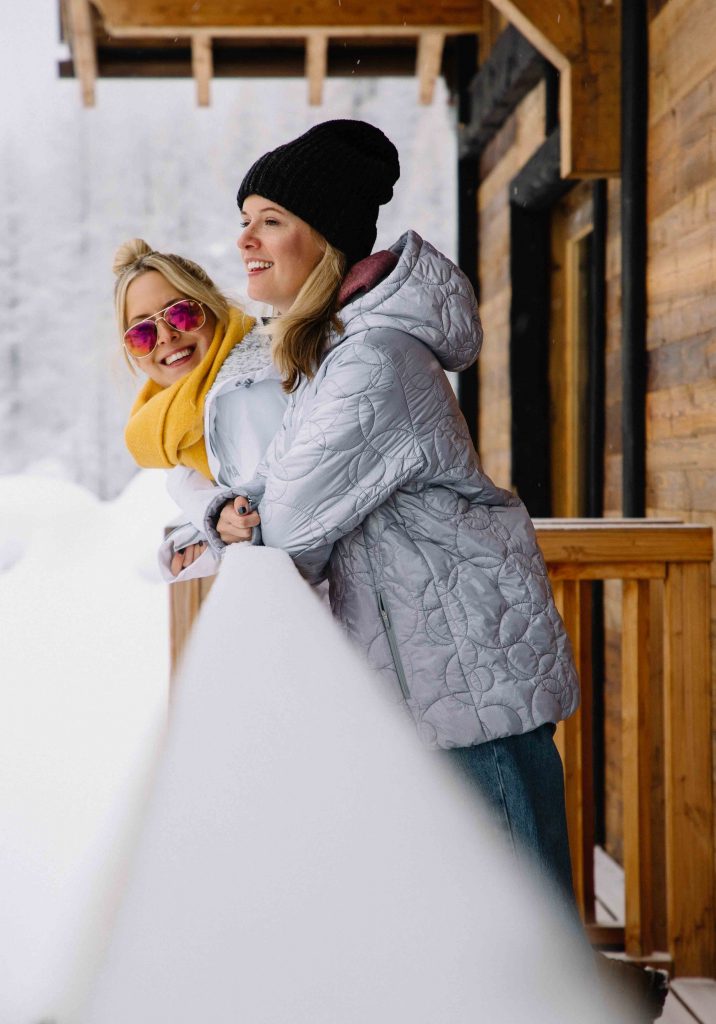 Over the last few years, I've tried a variety of ski jackets, yet my most recent purchase has been the best by far. Made by Colmar, this jacket is not only made for real skiers, but comes in a fantastic range of vibrant colours and designs (there is currently 30% off my silver jacket).
Warm, Waterproof Boots
If you are considering packing more than one pair of shoes for your first ski trip (aside from your ski boots), then stop what you're doing. I guarantee that throughout your trip, you will either be wearing your ski boots, or a pair of casual, waterproof boots. There is no need to pack high heels or trainers: they will only take up precious room in your suitcase.
On all my ski holidays, I've simply worn my Doc Martens when I'm not skiing. Able to tackle evening walks across town to local restaurants, or across icy pathways to my chalet, I've always been glad of my sturdy boots.
Other boots I'd recommend are any of those by Sorrel or these Teva Arrowood Lux ankle boots, recommended by The Travel Hack. Traditional walking or hiking boots tend to be incredibly heavy and bulky, which might not feel particularly comfortable to wear when heading for dinner or through an airport. These boots therefore make for a fantastic, lightweight and (slightly more) fashionable alternative.
Additional Extras
Backpack Or Money Belt
I'm sorry to have to break the news to you, but your handbag has no place on the slopes. Instead, you're going to require something a little more practical. When wondering what to pack for my first ski trip, I was a little confused as to what I would do with my mobile phone, purse and room key – all things you'll need on the slopes. Did my jacket have enough pockets? Could I store things in my hood?
Once I reached Chamonix, I realised that most skiers wore either a small, lightweight backpack, or discrete money belt – safely storing their worldly goods under their coats.
I'd advise that if you are a complete beginner, you don't wear a backpack immediately. During a time when balance is paramount (and you'll likely be taking a tumble or two) it's a little unsafe to have your back weighed down with valuables. Instead, opt for something smaller like this waistband from Decathlon.
Now a little more confident on my feet, I tend to wear a backpack – specifically this durable and lightweight Classic Laptop Backpack by Victorinox.
A Reliable and Resilient Watch
It is all too easy to lose track of time on the slopes. With the landscape looking eerily similar and run after run merging into one, I often imagine it's much earlier than it is. Likewise, given that it's incredibly difficult to handle a mobile phone in ski gloves – and with phone batteries quickly draining due to the cold temperatures – you're going to need a reliable way to tell the time.
Throughout our last ski trip in Tignes, we both wore Victorinox's impressively durable and strong I.N.O.X V watch, in both pink and black. Keeping to military time, and able to withstand several tumbles, this watch was the ideal ski companion.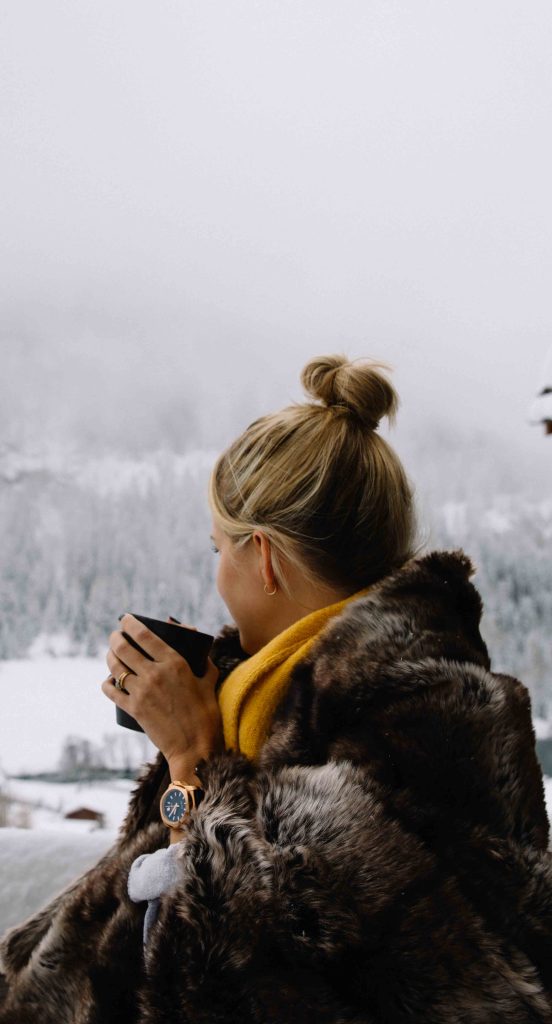 Water Bottle
The simple things make for a better ski trip experience and a reusable water bottle is one of these. If carrying a backpack, be sure to bring along a water bottle that you can keep refilled. Skiing is exercise and I tend to find myself incredible thirsty whilst on the slopes (the dry air exacerbates this). So when packing for your first ski trip, make sure your water bottle has a place in your suitcase.
Sweets
Perhaps an odd thing to pack for your first ski trip, but smuggling a small packet of sweets into your ski jacket might just be the best decision you ever made. With some claims suggesting that you burn 5,000 calories a day skiing, you'll quickly find yourself tiring and in need of a blood sugar surge. So, before you set off on your adventures, make sure you have some sugary treats to hand.
Lip Balm and Sunscreen
Largely self-explanatory, but you'll soon find that the cold mountain air will leave your lips feeling dryer than the Sahara. Be sure to buy a lip balm with SPF in it, to protect against those dazzling mountain rays. A stick style sunscreen that can be stored in a zip pocket is also a necessity – the sun's rays are far stronger than you'd suspect.
Bath Salts
This is a tip that I was once given by a ski instructor and is one I've never forgotten. It's difficult to stress just how much you will ache throughout your first ski trip, and maximising your chances of recovery each night is key. Bringing along some bath salts (I tend to use Epsom Bath Salts), helps to revive tired limbs and ease out any tension, leaving you ready for the next day.
Slippers
Perhaps I lied a little when I promised that you'd only need to bring one pair of shoes with you skiing. Slippers – warm, fluffy and cosy – are a luxurious necessity when skiing, and perfect to wear around your chalet or hotel room at night.
What To Pack For Your First Ski Trip: Final Thoughts
Knowing what to pack for your first ski trip can be a little daunting. It is difficult to resist the urge to simply buy most of H&M's knitwear section and cram it all into one suitcase. But this is something you must try to avoid – not least because you'll find yourself wasting an awful lot of money.
Yes, skiing is an activity that requires you to buy a lot of new clothing and equipment – things you wouldn't normally find yourself modelling in everyday life. Yet once your packing list is broken down, the list of items you need is fairly short. Provided that you have a good quality ski jacket, some great thermals, a fleece and salopettes, the majority of your daily ski outfit is done. And after that? It's simply the smaller items – ski socks and gloves – that you'll need to worry about.
Lastly, the best news is that all of this new gear should last you a lifetime. So, if you do truly catch the skiing bug, then this list will be more than enough to prepare you for many happy years on the slopes. Enjoy!
This is a blog post sponsored by Victorinox.
Pin it: What To Pack For Your First Ski Trip