Introducing the Best Unknown Beach in Europe
If you're in the process of booking your European holiday, you may want to give this article a read first.
You see, while we all know of the much loved beachside cities of Barcelona, Lisbon, Venice and Cannes, there's one European beachside city that you perhaps haven't heard of.
It's a city that we think might just offer the best unknown beach in Europe.
Just three hours by Eurostar from London, The Hague offers far more than just international courts and renowned art galleries. Jump on a bike (or tram) and head 5km towards the city's coast – and you'll discover a bohemian surfers' paradise.
A dune-filled haven for families, kite surfers, dog walkers and sun worshippers alike, a visit to The Hague's beaches will leave you wondering why you haven't visited sooner.
The ideal location for a long weekend of sand, sea and cocktails, here's why we think The Hague makes for the best unknown beach in Europe.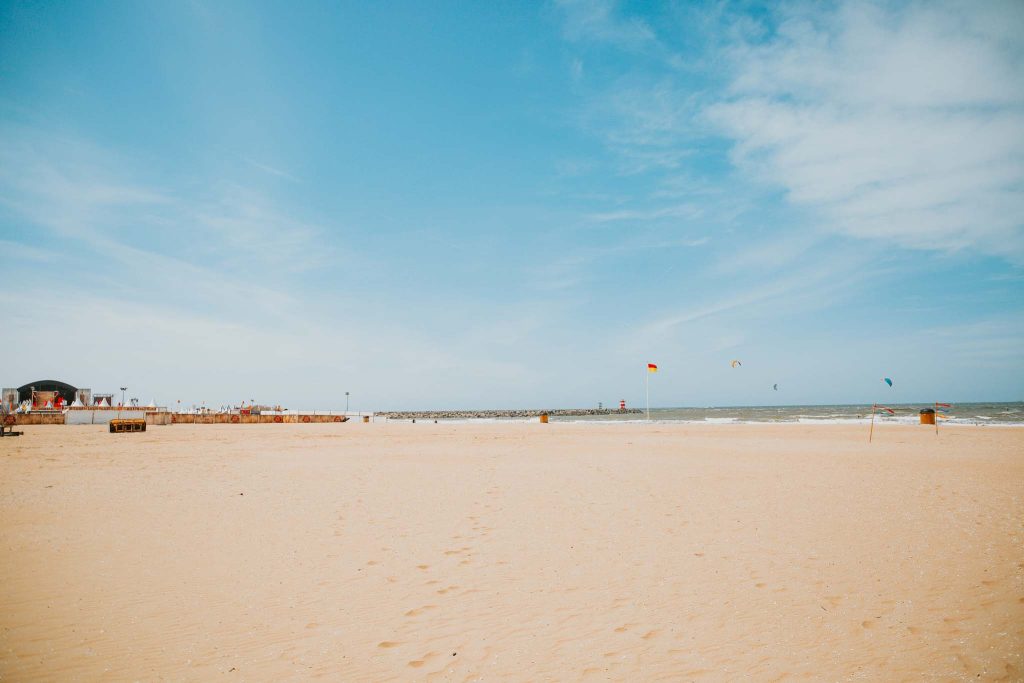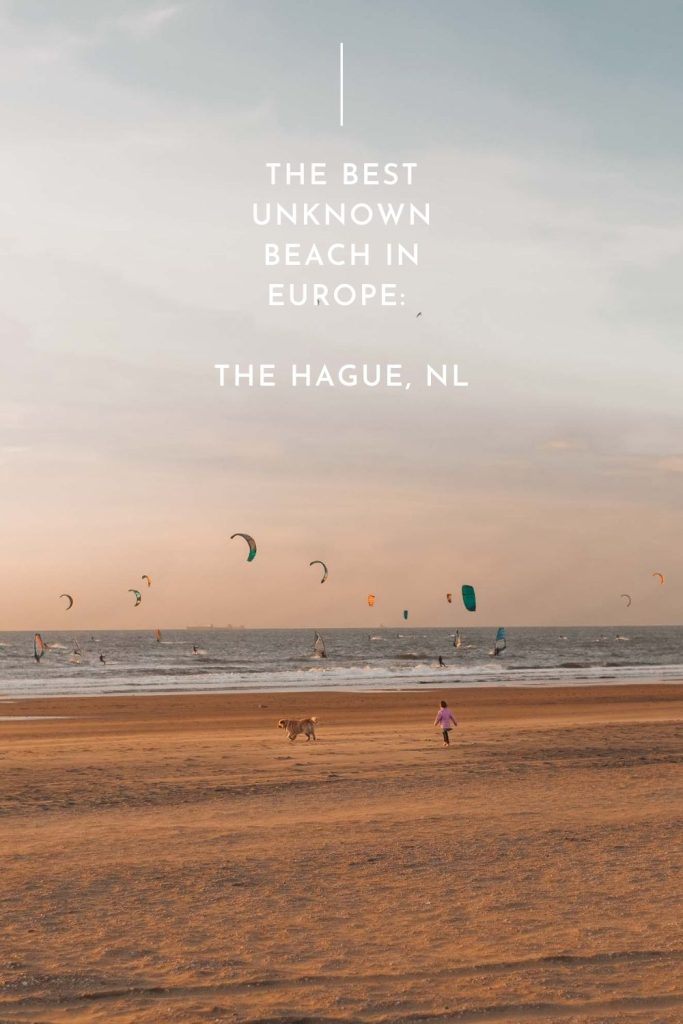 What Are the Beaches Like in The Hague?
There are two beach resorts in The Hague, offering 11km of sandy dunes when combined. These are the beach resorts of Scheveningen and Kijkduin – and both offer a brilliant alternative to your usual European beach break.
With The Hague being hailed as the greenest city in the Netherlands, it perhaps comes as no surprise that these beaches are also dedicated to sustainability. Throughout this post, I've therefore included references to the sustainable solutions that these beach resorts are deploying to help protect this majestic coastline.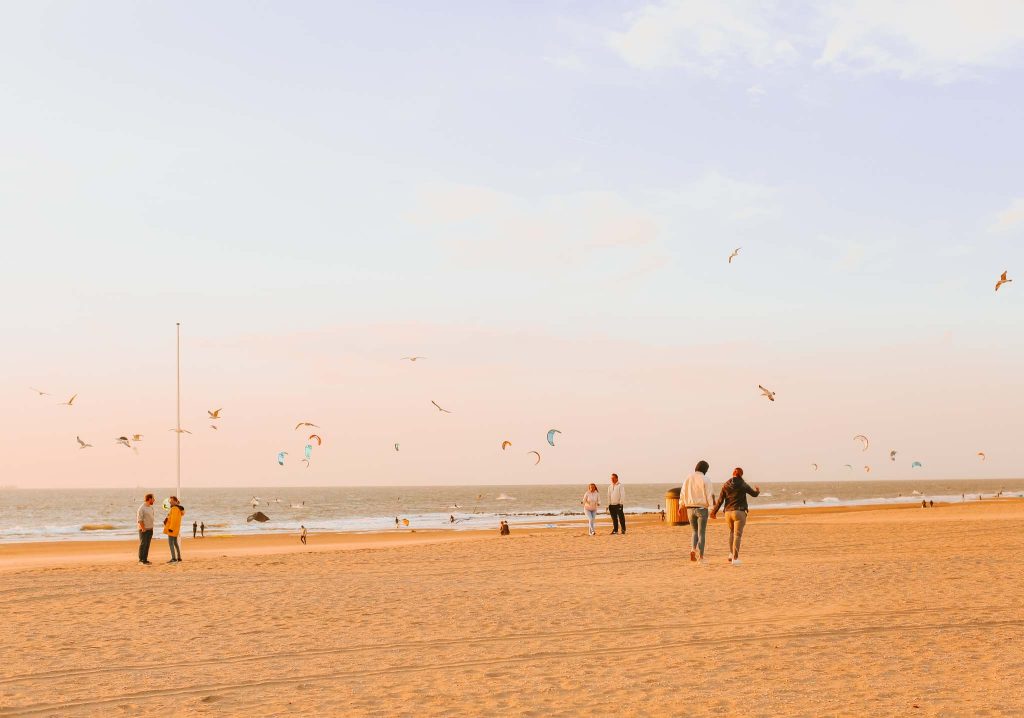 During your visit to The Hague, you might also notice references to 'Green Key' certification when visiting bars, restaurants or hotels.
Green Key is an international label for sustainable businesses in the leisure industry and certify that a business is committed to saving the environment. I've therefore included several Green Key restaurants and hotels in this post, for those looking to support sustainable tourism in The Netherlands.
A Guide To the Best Unknown Beach in Europe
1. Scheveningen Beach
Scheveningen Beach is located just 5km from the centre of The Hague and is the most popular beach in The Netherlands. Offering miles of coastline for kite surfers (kite surfing is incredibly popular in The Hague), surfers, families, dog walkers and sun seekers, this is a beautiful stretch of beach that you can enjoy any time of the year.
There are a number of ways to get to Scheveningen beach from The Hague's city centre (dependent on how many suitcases you have, or any mobility issues). There is parking available at the beach, or alternatively  – and more sustainably – you can jump on the tram or rent a bike.
A full guide to getting to the beach from different city centre locations can be found here.
Where To Stay on Scheveningen Beach: Inntel Hotel Marina Beach
During our most recent visit to The Hague, we were treated to a stay at the newly opened Inntel Hotel Marina Beach. A hotel dedicated to sustainability, Inntel Marina Beach is part of the Surprisingly Sustainable Programme.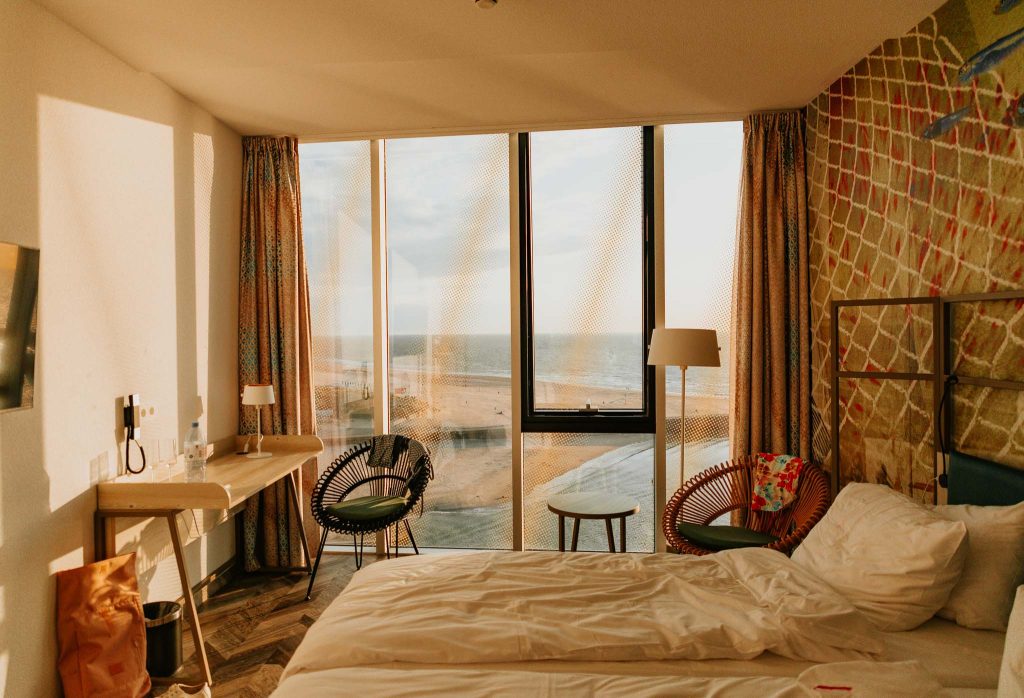 Arriving at the hotel – sun streaming into the foyer – and it was hard to reconcile the fact that we were in The Hague. With surf boards hanging from the ceiling and the glittering sea just a stone's throw away, Scheveningen felt more like a Mediterranean beach resort.
Yet here we were, next the North Sea – it was quite surreal.
Our accommodation was a dazzling sea view room that provided breathtaking views of the sunset. In total, the hotel offers 226 luxurious rooms that boast views of either the North Sea, the Northern Beach or The Hague's skyline.
We concluded that there was no 'bad room' to be found in this hotel; with each room offering beautiful views of city or sea.
Inntel Hotel Marina Beach: Swimming Pool and Spa
The cherry on the cake of the Inntel Hotel Marina Beach is its top floor infinity pool and spa. Located on the 13th floor and with panoramic views out over the beach, this is a sunny paradise to come and relax in after a day exploring.
For further relaxation, there is also a steam bath, sauna and separate rooms for massages and beauty treatments.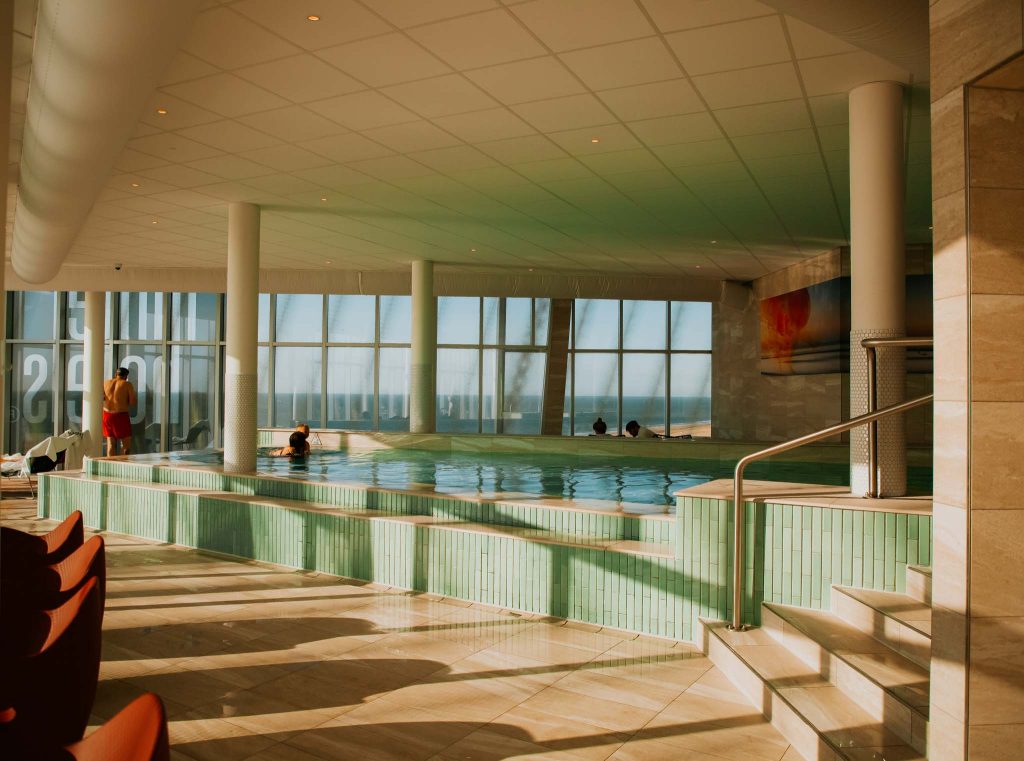 Willem I Brasserie and Bar
On our first night at Inntel Hotel Marina Beach, we treated ourselves to dinner in the hotel's restaurant. Sitting down in front of the glass windows, the sun setting over the North sea, we feasted on crab and salmon rolls, alongside the fish of the day.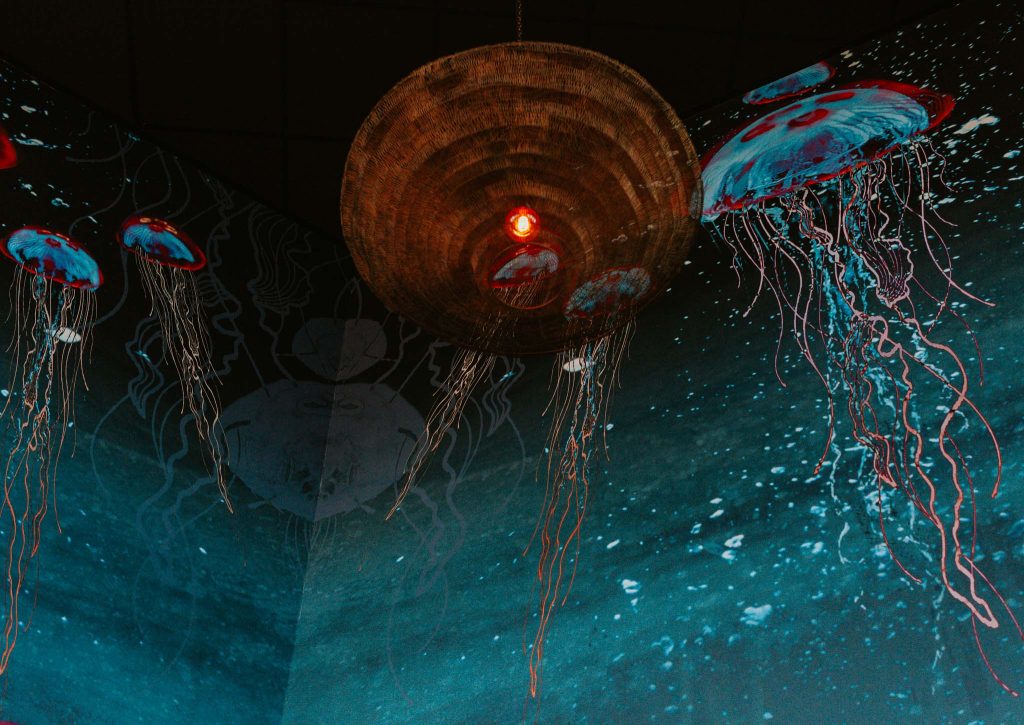 Lunch at Hart Beach
As mentioned earlier, The Hague boasts the most Green Key Beach restaurants in the Netherlands and this includes the salty, surfers' paradise of Hart Beach Club. What once started as a small surf community has now grown into a bar, restaurant surf school and Quiksilver shop.
We visited Hart Beach for lunch; the midday sun shining down on its colourful surf boards. The courtyard was bursting with people drinking smoothies, catching up with friends and reading. With a distinct laid back vibe, you could have almost been fooled into thinking you were relaxing on a Californian beach.
The food at Hart Beach was delicious and with sustainability in mind, we ate fresh fish caught  from the North Sea.
In the (unexpectedly) warm May sunshine, this was the perfect spot to enjoy a delicious lunch with friends. If I hadn't had more of the city to explore, I could have quite easily stayed here for the rest of the day.
Things to Do on Scheveningen Beach, The Hague.
As mentioned above, there are plenty of activities to do on Scheveningen Beach.
1.Scheveningen Pier
Scheveningen Pier is a traditional pleasure pier that was built in 1959 and refurbished in 2015.
Offering both restaurants and shops, this is a nice little pier to stroll down. For those looking for panoramic views, hop on the Skyview 50m ferris wheel. For a quirky experience, you can enjoy High Tea (quite literally) over the sea in your private Skyview gondola. We enjoyed this experience on our first visit to The Hague and it was certainly a unique way to see the city and coastline.
2. Take a Surf Lesson
For the adventurous, surf lessons are available from beachside clubs such as Hart Beach. Available for both adults and children, this is a great family activity to try out while visiting The Hague.
The beach at Scheveningen is incredibly popular with surfers and even hosts international and national surf competitions.
3.  Windsurfing or Kitesurfing on Scheveningen
While visiting the beaches of The Hague, there is no escaping the colourful kites that whizz and swirl in the sky. An incredibly popular destination for both windsurfers and kitesurfers, The Hague beaches are a sight to behold on a windy, summer's day.
For those eager to try their hand at kitesurfing, head to Zandmotor ('Sand Engine'), which is located just south of Kijkduin resort. This is an artificially raised beach with a lagoon, making it an ideal 'safe' place to try your hand a kite surfing.
4. Go for a Dip
There's no getting around the fact that The Hague is located on the North Sea and is therefore not (quite) as warm as the Mediterranean. However, I was surprised to see just how many people were swimming in the sea during our visit in May.
Had I had more time, I think I might have enjoyed some cold water swimming along the shore line; swapping my bikini for wetsuit, of course.
5. Relax with a Good Book
If all of the activities above sound too much like hard work, then there are sun loungers and beach breakers available on the beach during the summer, so that you can fully enjoy the best unknown beach in Europe.
2. Travelling from Scheveningen to Kijkduin Beach
Bike Ride Through The Hague's Dunes
To truly make the most of your visit to the best unknown beach in Europe, I highly recommend hiring a bike to cycle the scenic path between the sand dunes of Scheveningen and Kijkduin. Bikes can be hired from Inntel Hotel (for guests), or alternatively you can book general bike hire from the city centre.
During our visit, we hired the popular Haagsche Stadsfiets e-bikes. These are electric bikes that allow you to whizz around the beach and city with ease, without breaking too much of a sweat.
Tip: be sure to pack your water bottle. The tap water in The Hague is the cleanest in Europe and there are regular drinking stations along the coastal path.
3. Kijkduin Beach Resort
Located on the southern side of The Hague is Kijkduin Resort.
In its heyday, this was an incredibly popular beach resort for both the Dutch and other tourists from bordering countries. Over the decades, however, the resort had become quieter, losing a little of its spark.
Thankfully, work is now underway to restore this area to its former glory. Offering quiet sandy beaches, alongside new and upcoming restaurants and shops, Kijkduin is making a comeback.
Nieuw Kijkduin Development
During our first visit to Kijkduin in 2018, the resort was a beautiful, yet quiet, place, with just a few cosy beachside restaurants to enjoy. Returning in 2022, however, and we were met with a very different scene.
Nieuw Kijkduin  is an exciting new sustainable development in Kijkduin that we had the opportunity to learn more about during our latest trip. Comprising of apartments and commercial restaurants and shops, this is a forward-thinking project, built on gas free and renewable energy principles.
While you might not be planning on buying an apartment at Kijkduin, the restaurants and shops found within the ground floor of the complex are well worth a visit. From an (incredible) chocolate and ice cream store, to a trendy wine bar, the restaurants and shops here were a huge surprise and have added a new, exciting element to the Kijkduin Resort.
Where to Stay on Kijkduin Beach: HaagseStrandhuisjes' Beach Huts
During our first trip to The Hague, we were delighted to discover that we were staying in the quirky, but beautifully built, HaagseStrandhuisjes beach huts.
Made from sustainable materials, the beach huts on Kijkduin are designed to work alongside the beach and surrounding dunes. Using green energy, HaagseStrandhuisjes are another green key certified business that make for a quirky base when visiting The Hague.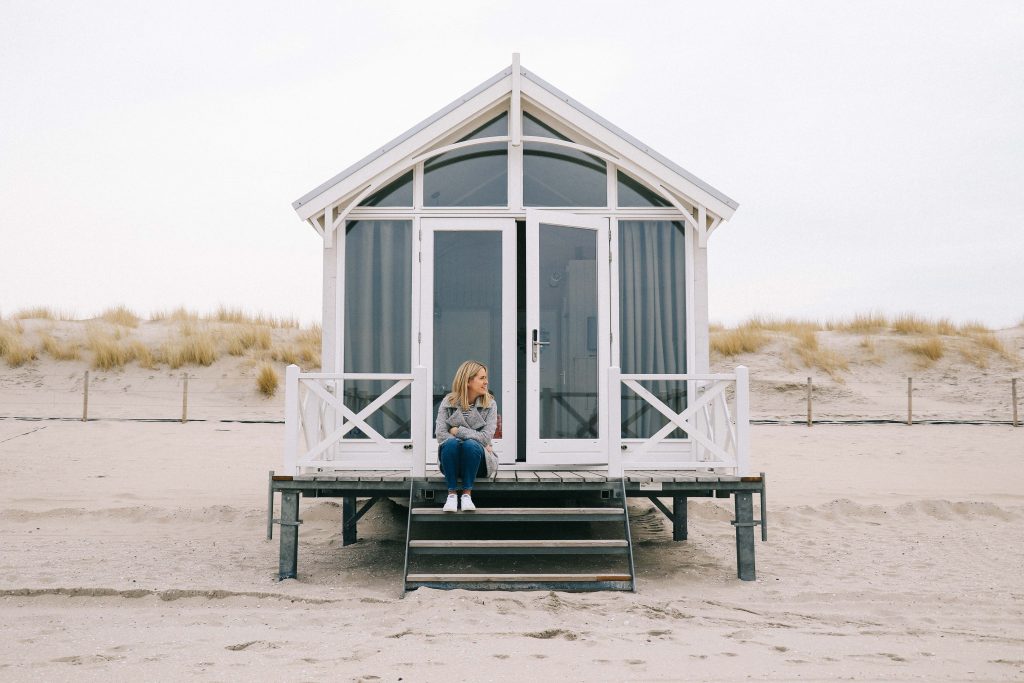 There are 20 beach houses available on Kijkduin, all of which are surprisingly spacious once inside. Offering a living area, two bedrooms and bathroom, the beach huts are ideal for couples or families looking for a beach break while visiting The Hague.

Strandtent 14
Strandtent 14 is another Green Certified Beach Club in The Hague, and one I would throughly recommend visiting during a stay on Kijkduin beach. A bohemian bolthole for those looking to enjoy a cocktail or meal, Strandtent 14 is the place to come for laid back sunset drinks; enjoying the outside sofa area or the cosy fire and candles in the lounge.
As an aside, although I wasn't traveling with my toddler, I couldn't help but notice the brilliant provision of swings and small play areas outside most of the beachfront restaurants and bars on both Kijkduin and Scheveningen beach.
Ideal for weary parents wanting to enjoy some peace and quiet, this just added to my belief that The Hague makes for the ideal beach break.
Is the Hague the Best Unknown Beach In Europe?
A sparkling stretch of soft sand and mountainous dunes, The Hague's beach is perhaps the best unknown beach in Europe. The only city on the North Sea that offers both a cosmopolitan, historic centre and a bustling beach, The Hague is a diverse and colourful city to explore.
Our final tip?
Visit quickly, before the secret gets out.