How long does a fractured humerus take to heal? And what is the recovery time for a humerus fracture?
These were the first questions I plugged into Google after breaking my humerus, one Easter Sunday. After a day of sunshine and celebrations, I came downstairs and tripped over my baby's stair gate – rewarding myself with a nasty comminuted, spiral fracture to my humerus.
It wasn't a particularly dramatic fall, but I broke my landing with my hand, somehow twisting my arm as I went.
I didn't feel any pain as I landed, just the strange sensation that the top of my arm was moving, despite the fact that my forearm was completely still. I think that was perhaps the moment I figured I'd broken my arm. Each time I tried to move it, it pivoted at the fracture site (a sensation I'm in no hurry to experience again).
Sitting up and holding my forearm to my chest, I was immediately dripping with sweat and incredibly nauseous. Trying my best to remain cheerful as my one year old stared on in horror, I called for my partner and requested a trip to A&E.
Fast forward a few hours and I was home again with a temporary cast on, instructions that I'd need surgery (more on this later) and a now very painful arm. With the dawning realisation that life was about to get pretty challenging, I took to the internet – seeking answers to my growing list of questions.
How long does it take to heal a broken humerus? How can you speed up healing a fractured bone? What supplements should I take to help fix a bone fracture? Could I shower with a broken humerus?
While I found a lot of information on a broken humerus, most of it seemed to deal with proximal fractures – those close to the shoulder. My midshaft humerus fracture, it seemed, was a little more niche – an injury saved for women of a certain age, or for those playing violent, close contact sports.
I was 35 and had tripped over a small gate.
To help fill this information void, I thought it might be helpful to therefore document my own recovery; detailing how long it took for my midshaft humeral fracture to heal. Given that my recovery was surprisingly fast (despite the severity of the fracture), I've included in this my tips for managing this nasty injury; including the best supplements to take.
How is a Broken Humerus Treated?
The way a fractured humerus is treated depends on many different factors. These include the consultant you see, the nature and location of your break, how displaced the fracture is, and your own age and overall wellbeing.
Will I Need Surgery for a Humerus Fracture?
When I first went to A&E, the consultant that saw me was adamant that I'd need Open Reduction Internal Fixation (ORIF) surgery. For most adults with fairly displaced fractures (e.g. those not particularly aligned, even once a cast or brace has been applied), this seems to be the chosen route.
As I had a midshaft fracture to my humerus, and given that the bone is one of the longest in the body, my own break was extremely unstable. In fact, I could feel the bones moving and hitting one another as I walked, or even sat down.
Added to this the nature of my break – comminuted (meaning the bone was broken in more than one place), spiral (meaning the fracture had spiralled up the bone) and butterfly (meaning my break included a large, triangle fracture fragment), it was perhaps inevitable that my consultant declared the fracture 'horrible' and in need of urgent surgery.
My consultant explained that the benefits of ORIF surgery (which would involve fixing a metal plate and screws to the broken bone), would be that the fracture would instantly be more stable and I'd get movement back faster (although strength would take a while to return).
Although a little overwhelmed by not only having a newly broken arm, but by the prospect of imminent surgery, I hastily agreed to the ORIF surgery  – signing the consent papers before I left A&E.
The Non-Operative Route (Cast-and-Brace) – the UK's HUSH Trial
After the worst night's sleep of my life (and I've got a young baby), I got a call the next day from the hospital's Fracture Clinic, asking that I go in to speak to one of the orthopaedic consultants.
After making it to the hospital, the consultant said that having discussed my broken humerus, it might be that I needn't have ORIF surgery after all.
He explained that the NHS was running a trial – HUSH – to see whether this fairly invasive surgery really did improve outcomes for humerus fractures. Instead, would the conservative route (or natural healing) work just as well? Given that in the UK, most proximal humerus fractures are now treated with just a cast and brace approach, their feeling was that midshaft fractures would also heal just as nicely.
The benefits of natural healing were, of course, no surgery (also avoiding any risk of infection or damage to my radial nerve), no scar and no need for future surgery to remove the 'hardwear'.
Of course, there was a risk that my bone may not 'unite' (a 1 in 5 chance, in fact), but given my age (I'm 35) and lifestyle (fairly fit and healthy, a non-smoker), he felt that I had a good chance of it healing naturally.
This left me with a number of choices: 1) I could either continue with my initial decision to get ORIF surgery 2) I could decide against surgery and instead opt for natural healing, or 3) I could join the HUSH UK trial and my treatment would be randomised (decided for me).
It was a bit of a daunting decision to make and despite me repeatedly asking what the consultant would do, he simply reiterated that I'd do well with 'either option'.
Eventually, and after a lot of back and forth, I decided to opt for the natural healing route; leaving the hospital with everything crossed that my fractured humerus would recover on its own.
How Long Does a Fractured Humerus Take to Heal Naturally?
When talking to my consultant, I (obviously) asked which would lead to the fastest recovery – ORIF surgery or natural healing?
Both, he said, had a pretty similar trajectory – taking around 12 weeks to heal. While the fracture would feel stable faster with surgery, it would still take around 3 months to then settle and heal.
If opting for the natural route (initially wearing a cast, before moving to a special humerus brace), the fracture would begin to stabilise at around 4 weeks – with 80% of all healing taking place at the 12 week mark.
It would take a full year, with either route, for the humerus to entirely recover.
Given that it seemed that ORIF surgery didn't necessarily speed up healing when it came to a fractured humerus, I was more persuaded than ever that the conservative healing route was the best path for me.
My Own Journey to Recovery
After deciding to let my humerus fracture heal naturally, I was then faced with the reality of living with a broken arm.
Given that I had a toddler to look after, and that I typed and photographed for a living, this reality was initially hard to accept. After the adrenaline had worn off following my fall, my arm was now also incredibly painful – making simple activities hard.
Over the next few weeks, my partner needed to take extended time off work to help with our baby, I had to cancel new client work I was due to start, and friends and family had to help with cleaning, cooking and driving. I also needed help with showering, dressing and brushing my hair; something I found incredibly depressing.
However, although those first couple of weeks seemed to last a life time, things quickly improved; something I'd emphasise to anyone at the start of their journey.
To demonstrate just how rapidly things returned to normal, below is a timeline of my recovery – a record that I hope provides you with a little comfort.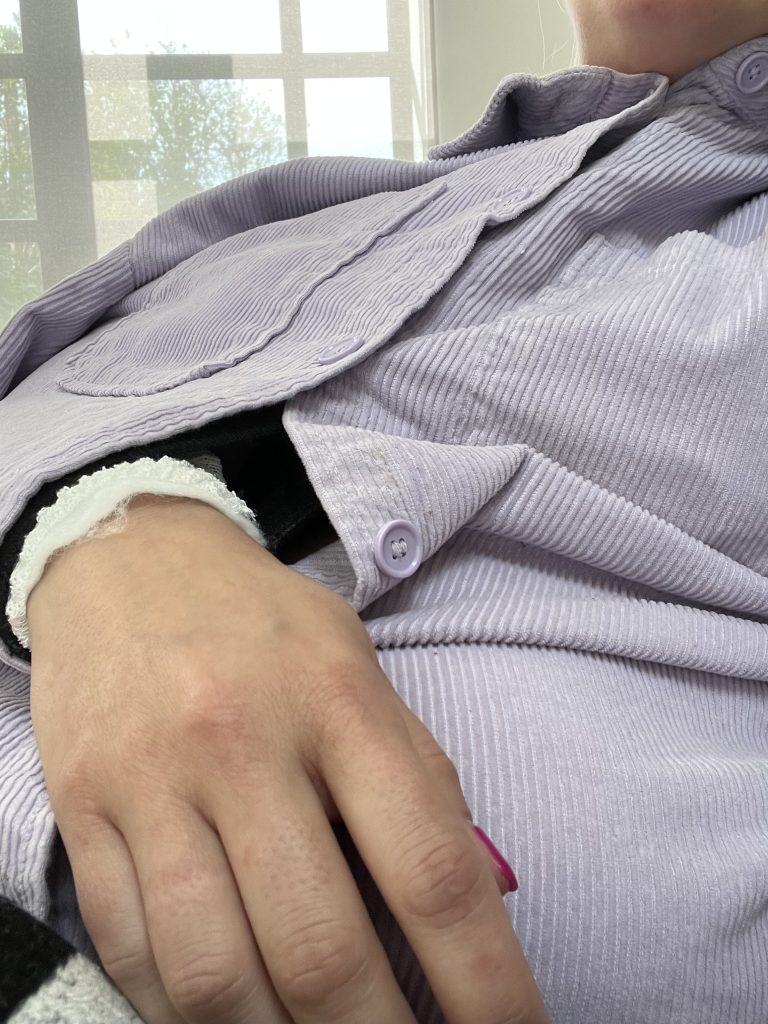 Week 1: Tears, Pain and a New Brace
After breaking my humerus on Easter Sunday, the first week was a blur of hospital appointments, restless nights and tears – many tears.
I was sent home from A&E with a heavy provisional cast, until I next saw a consultant. Thankfully, I only had to live with it for three days – something I'll be forever grateful for. It was incredibly cumbersome and hard to sleep with, and I could feel my fracture clicking and rattling around inside it.
It seems some hospitals, dependent on where you are, will make you stay in a cast for longer. However, the consultants I saw seemed to think that it wasn't the appropriate treatment for a midshaft fracture of the humerus, as it wouldn't properly align the bone. My fracture was also just above my elbow, meaning the cast rubbed and bumped against it; displacing it further.
On the Tuesday, I therefore attended my first Fracture Clinic – where I was sent to the Plaster Room to be fitted with a humerus brace.
The brace fitted comfortably over just the top of my arm and felt immensely better than the cast. I'll admit, swapping from a cast to a brace was painful – my arm was now swollen, bruised and incredibly tender – but the staff in the Plaster Room were incredible; taking it slowly and ensuring all was done as delicately as possible.
The brace had to be done up tightly to help keep my fracture aligned and I was given a sling – which when combined with the brace, made my fractured humerus feel pretty comfortable. I was then sent for another x-ray to ensure it was all straight, before being sent home.
The pain during this first week was miserable; however, not so bad that I needed to take the Co-Codamol I'd been prescribed. Instead, Paracetamol was enough to manage the pain. By day four, this felt like an intense dull ache up and around my shoulders.
The rest of the week was really spent trying to adapt to being able to do very little. I didn't shower – just washed (with the help of my partner) in the sink. I also couldn't wear anything with sleeves, so largely wore oversized shirts slung over my arm.
Combined with my greasy hair, lack-lustre appearance and not being able to pick up or care for my baby, I felt thoroughly depressed. I cried a lot – and struggled to see how we'd cope as a family for the next twelve weeks.
It was all very overwhelming.
Thankfully, someone recommended that I join this Facebook group; filled with people with fractures to their humeral shafts. It's a fantastically supportive place and gave me a community to vent, gain advice and feel heard.
How To Sleep Comfortably with a Broken Humerus
One thing I should definitely mention about my first week with a fractured humerus was just how difficult sleeping was.
Whilst many in the US with the same injury seem to find some solace in sleeping in a reclining armchair, they don't seem to be as prevalent here in the UK.
I therefore spent the first six weeks sleeping in the spare room, propped up by at least eight pillows (top tip: I found using my pregnancy pillow to really prop myself up an absolute god send. Buy one even if you aren't pregnant!)
Despite this, for the first couple of weeks, sleep was still pretty much non-existent.
I'd slowly slip downwards as I drifted off – meaning my arm would hit the mattress and the pain of it would wake me up. I also felt like I was being perpetually strangled by both the sling and itchy humerus brace.
For the first two weeks, I also experienced muscle spasms in my arm as I relaxed, which were incredibly painful. It felt like my arm was being jolted upwards, which, with a broken humerus, was agony.
Thankfully, the spasms subsided after the first fortnight or so and by week 3, I was starting to sleep a little better.
Worst Part of Week 1: While physically I was certainly uncomfortable, the mental repercussions of breaking my humerus – and its consequences – hit me like a ton of bricks. I also found sleeping very difficult, which no doubt exacerbated things.
Tips for Week 1: Start gently moving your arm. I know, this might feel impossible – but each evening I'd delicately remove my arm from the sling and try to flex and straighten my elbow (elbow joints get very stiff, very quickly).
Although the movements were only small, it gave me something positive to focus on and a sense that I was helping my own recovery.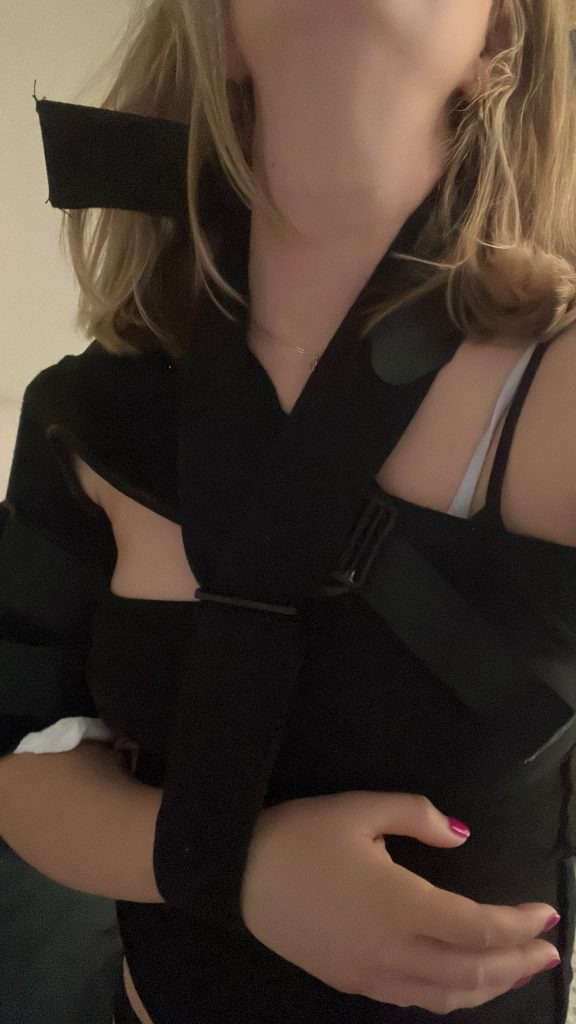 Week 2: Swelling and Supplements
Week 2 was fairly similar to week 1, but with more swelling.
Although my fracture was just above my elbow, my forearm and hand became very swollen; feeling tight and bruised. I rang the Fracture Clinic to check this was normal and they said the swelling would travel up and down the arm – pooling particularly at the elbow (thanks to the sling).
I was advised to keep moving my forearm and hand as much as I could, to prevent the soft tissue becoming stagnated.
Once the swelling subsided (although, it was up and down for a few weeks), my skin then seemed to peel off almost overnight – where presumably it had been stretched and broken. It was fairly unpleasant and yet another unexpected consequence of breaking my humerus.
Supplements to Help Heal a Broken Bone
After doing some research, Week 2 was when I started taking supplements to help heal my fractured humerus.
Alongside taking a general bone support supplement, I also decided to try Cissus Quadrangularis.
Used for centuries in African and Ayurvedic medicine, this vine is said to promote and accelerate bone healing. Initially, I was a little sceptical about this claim, however – it's now been the subject of several studies seeking to verify its 'osteogenic potential' – and has delivered some outstanding results.
Indeed, in one study, those that took Cissus Quadrangularis had a healing time that was up to 2 – 3 weeks faster than the group that did not.
With nothing lose, I therefore bought my own capsules and began taking them straight away.
Worst Part of Week 2: The swelling was definitely uncomfortable and my forearm felt very 'boggy'. It made moving it and doing any exercises difficult and with it came bruising, which streaked down my forearm. In fact, those spots are still tender now (week 10).
Tips for Week 2: Start taking supplements. Of course, I'm not a medical professional, but as you'll see from my own recovery, I'm fairly certain that Cissus Qudrangularis helped to speed up the healing of my fractured humerus.
Week 3: Callous Formation
I'm pleased to report that by week 3, there were less tears and depressive episodes than there were during the first fortnight.
By now, although things were still difficult, we were beginning to adapt to life with my broken humerus and the pain had reduced significantly.
Week 3 X-Rays
This week I had my second visit to the Fracture Clinic and with it, an x-ray to see how my fractured humerus was doing.
When I went in to see the consultant, she initially thought I was at the 6 week mark and commented that although she could see callousing (the formation of new bone), there was perhaps not as much as she'd like there to be.
When I reminded her that I was only just entering week 3, she was very surprised; commenting that the amount of 'soft' bone present was much more than they would expect at this point.
I honestly put this down to the supplements that I was taking, which were encouraging callous to form.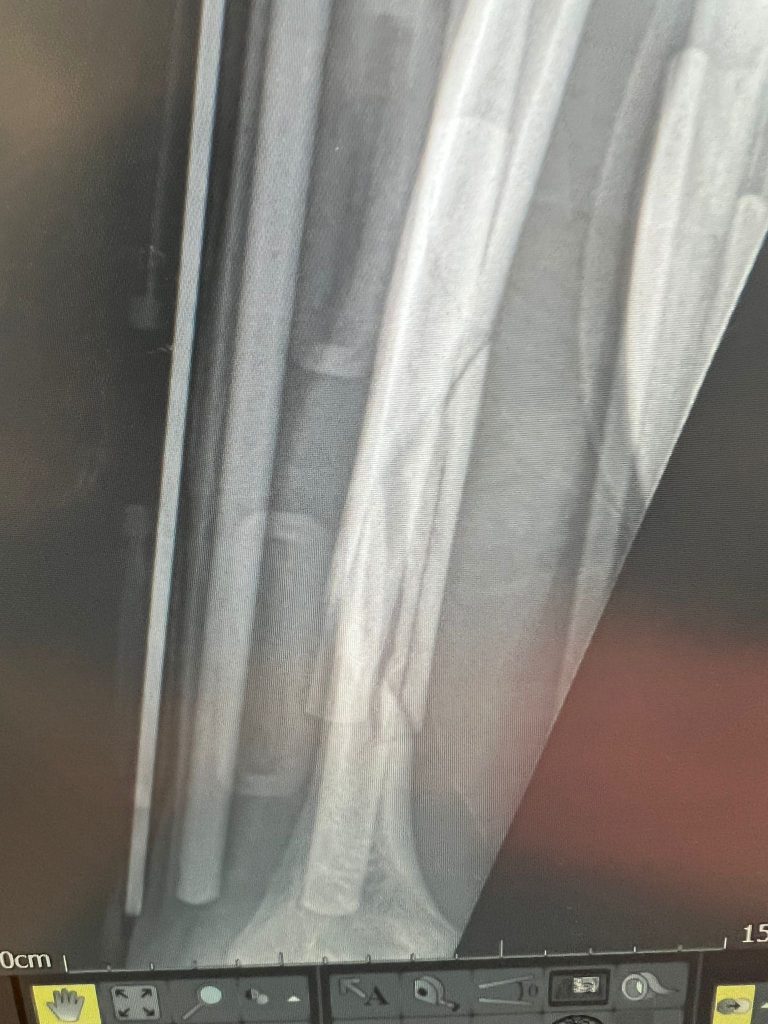 Fracture Blisters
While my midshaft humerus fracture was healing nicely, my skin was now bearing the brunt of my accident.
Due to the swelling and trauma to my arm's soft tissue, I unfortunately developed several fracture blisters.
These all sat under my brace and close to the bottom of it; rubbing painfully on it and weeping. They stung (a lot) and were generally a bit grim.
Due to the risk of infection from these blisters, the Fracture Clinic asked that I come in so they could be looked at and dressed. After the consultant checked that they looked fairly 'in tact', the staff in the Plaster Room then cleaned and dressed them; a truly heavenly experience.
They applied a cooling, protective gel to my skin and wrapped a dressing around them. I was also given 'cream on a stick', that I could essentially poke upwards, under my brace, to rub on my blisters when they hurt. Once the staff had worked their magic, my skin felt much more comfortable and my paranoia regarding getting an infection went.
Worst Part of Week 3: By this point, I was finding my sling incredibly irritating. It was a fairly thick, black affair – and really rubbed my neck (especially when I slept). In fact, I had to put plasters around my neck, where it was irritating moles on my skin. The fracture blisters were also really unpleasant.
Tip for Week 3: By week 3, I started to remove my brace to shower, using a pair of tights as a makeshift sling. I cannot tell you how incredible it felt to stand under a hot shower; and it did my mental health the world of good.
Week 4: Weaning Off the Sling
By week 4, my fractured humerus was feeling pretty stable.
It was no longer clicking or popping when I walked, and I could sit down and stand up without clutching my arm. I was also beginning to unconsciously use my arm a lot more – e.g. I could just about change nappies and use a knife.
This week, I had to return to the Fracture Clinic (I was a regular by this point), to have the blisters checked. While there, the consultant had a look at my arm and said I should begin weaning out of the sling (shock, horror).
While the sling is so important at the start of the healing journey – ensuring the arm stays at a 90 degree angle and aligned – by this point, it was also slowing things down. My elbow was getting very stiff and my shoulder was also incredibly sore, having remained passive for four weeks.
The consultant therefore asked that I begin to stop using the sling; instead letting my arm hang by my side.
Now, anyone with a fractured humerus will understand how terrifying this seemed. When I first broke my arm, I couldn't physically let my arm hang like that – it felt like it was detaching from my upper arm. The idea that I had to therefore do this was scary and I was a bit reluctant to try.
After gently guiding my arm downwards and removing the sling, things initially felt very odd. My arm felt like it weighed a few stone and I found it hard to stand up straight. I walked around, stooped over – arm hanging – for quite a while, before summoning the courage to straighten up and use my upper back muscles.
Over the next few days, I did this on repeat, letting my arm hang for a few minutes until things felt more comfortable. Within just a few days, things felt much more normal and I was only wearing the sling for long walks; letting it hang freely the rest of the time, free of pain.
This felt like a huge achievement and a real milestone in recovering from my fractured humerus.
Worst Part of Week 4: By this point, I was itching to drive again and I began to find the isolation that comes with a broken humerus very frustrating. However, I needed to wait until the break was at least 50% healed until my consultant would let me drive again.
Tip for Week 4: Although I appreciate everyone's journey to recovery is different, weaning out the sling earlier, rather than later, really can help expedite your recovery. You'll be surprised at just how well your body manages once the sling has been removed – and how much you begin to use your arm (albeit unconsciously).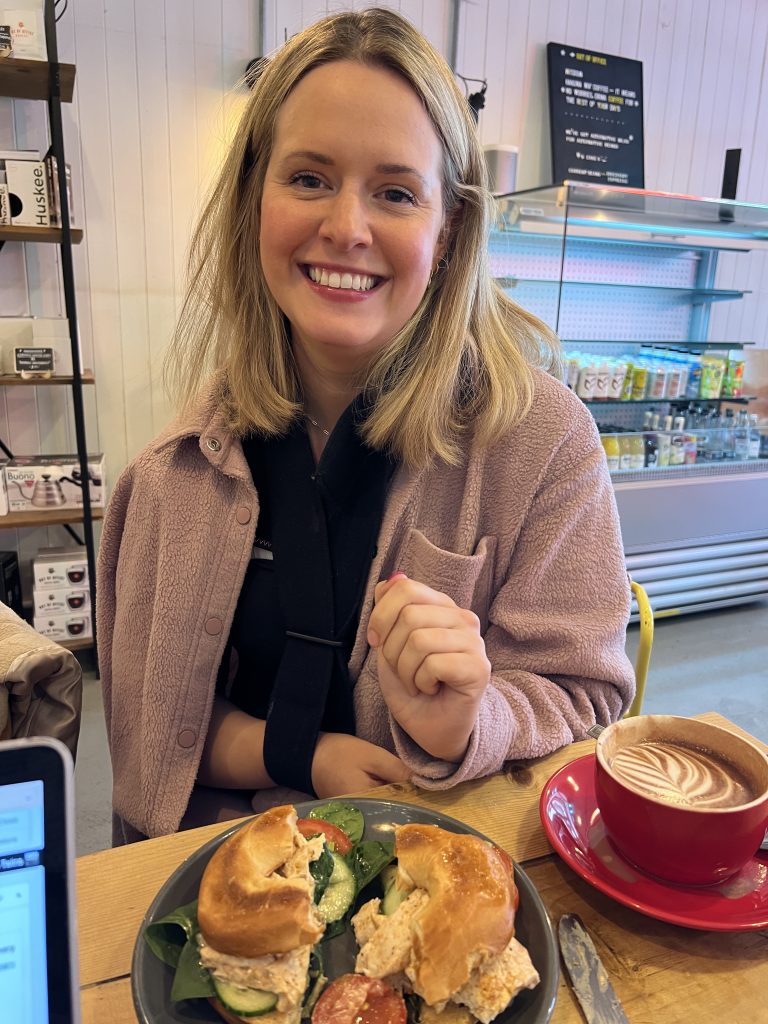 Week 5: Looking After My Baby (Solo)
Week 5 was a relatively unremarkable week, aside from one thing.
This week, my partner needed to return to work, which meant I was flying solo when looking after our baby.
Although he's in childcare three days a week, I'd still have him two days that week.
When I first came home from A&E, looking after my baby seemed an impossibility. I couldn't pick him up, lift him, change him or even feed him. However, by week 5, I was doing all this – albeit with some major adaptations.
I was now picking him up with just one arm and carrying him under my 'good' arm – like a rugby ball. It was definitely much harder work, but incredibly rewarding to know that things were beginning to return to normal.
By this point, the fracture was no longer painful. In fact, this pain had been replaced by stiff and tight muscles around my bicep – a sign that I needed to start stretching, flexing and using this arm more.
Worst Part of Week 5: By week 5, I definitely felt in a bit of a no man's land when it came to my comminuted humerus fracture. While my fractured humerus felt so much better, it was still broken – and I had no strength in my arm. However, it also felt so much better that wearing the brace felt frustrating (and very hot).
Tip for Week 5: By week 5, I was starting to do a lot more with my arm and trying to understand its limitations. This meant I was using it to gently brush my teeth, apply mascara and do small, but determined, movements.
Week 6: More Improvement
Week 6 felt like a great milestone in the healing of my humerus fracture.
I'd always been told that it was at this point that most people would have some callousing and that things would start to steeply improve, which had given me something to look forward to.
As it was, I'd say that the steep improvement for me began after week 2 or 3 and it's been exponential ever since. However, it was still really nice to finally get to this check point.
Week 7: Saying Goodbye to the Humerus Brace (65% Healed)
I was bizarrely excited for my visit to the Fracture Clinic this week.
My arm was feeling much better and I was keen to see if this would be corroborated by an x-ray. Thankfully, it was, and the consultant said he was thrilled by the amount of 'fluffy bone' he could see on the x-ray.
Although there were still areas of my fracture that hadn't yet healed – I had a comminuted spiral fracture to my humerus, meaning that there were multiple fracture sites – it was around 65% healed. He estimated that I'd be around 90% recovered at the 12 week mark, with 100% healing taking up to a year (as is common with any bone fracture).
Rather than focusing on callous and bone healing, attention now moved to physiotherapy to help get the arm moving again. During my appointment, my consultant noticed that the majority of the pinching sensation I was feeling was not from the fracture site, but from tight bicep muscles around the bone, which needed stretching and using.
To achieve this, the consultant gave me the best news of my recovery so far: I could stop wearing my humerus brace.
I cannot tell you how happy I was to get that humerus brace off. Not only could I dress properly again, but I could drive again – something that was a game-changer in terms of my mental health.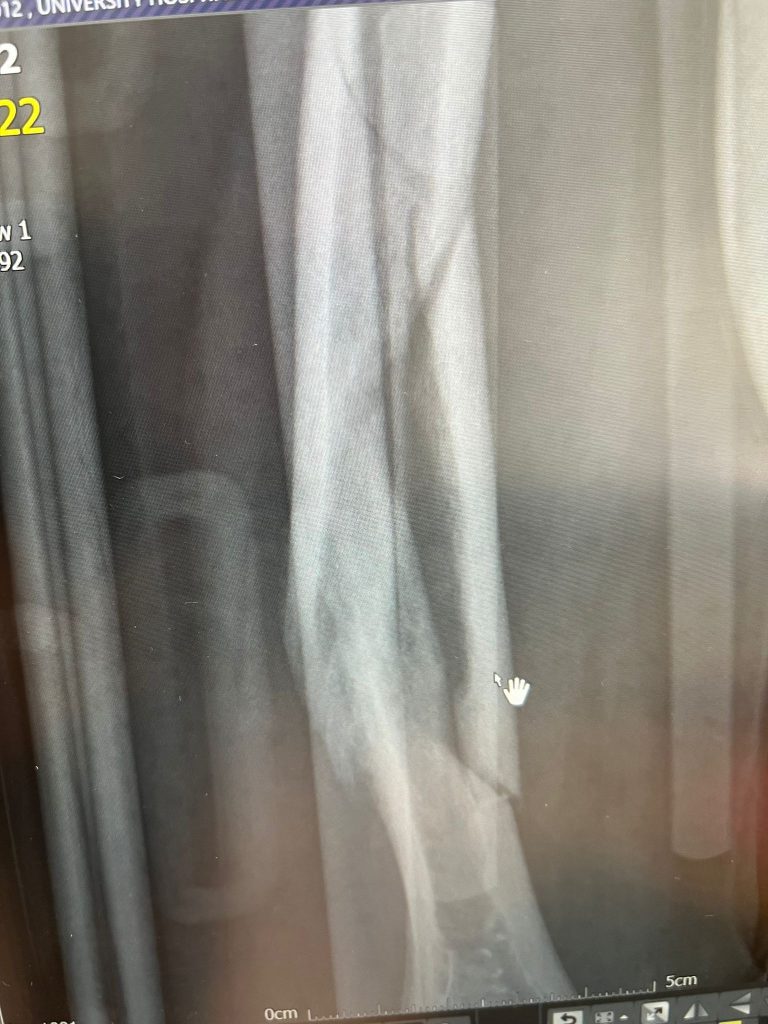 Worst Part of Week 7: By this point, I was starting to get a frozen shoulder from not using it much. This meant I had a lot of pinching and popping sensations when using it, which was painful. I also noticed it was feeling stiff in the mornings.
Tip for Week 7: Be brave. I felt incredibly vulnerable without my brace on, but I underestimated just how quickly – and expertly – the body can heal. Relaxing into not wearing my brace meant I also began using my arm without even thinking; which no doubt helped my muscles and my range of movement improve.
Week 8: Physiotherapy Begins
Week 8 signalled the end of one journey and the start of another.
With all eyes previously on how well my fractured humerus was healing, we were now instead dealing with the fallout of the break. This meant a new focus on my stiff and torn shoulder muscles, and the overall loss of strength and range of motion in my arm.
Physiotherapy was therefore the next stage of my journey.
After assessing how well my arm was doing, the physiotherapist said I was able to straighten my arm approximately 70% (compared with my left arm) and that I'd lost a lot of strength in my biceps and triceps.
This loss of strength was something that even surprised me. When we did basic exercises together (e.g. squeezing outwards with my hand, against her hand) and I was stunned by just how weak my broken arm was.
I was reassured all this was normal and it's likely I tore my rotator cuff muscles in my shoulder, hence the pain and stiffness. I therefore just needed to stay consistent with the exercises and be patient.
Worst Part of Week 8: the shock of realising that the fracture was only one part of my journey and the majority was actually rehabilitation. As they say when you fracture your humerus: recovery is a marathon, not a sprint.
Tip for Week 8: buy yourself a few different resistance bands and start working on strength and flexibility as soon as you're given the go ahead to. The earlier you begin, the better.
Week 9: Travelling Abroad with a Broken Humerus
Having already cancelled one holiday when I first sustained my fractured humerus, I was determined to not cancel another (not least because Ryanair do not give refunds – ever).
Although still stiff and weak, my arm felt in pretty good shape. I could brush my teeth with my arm, put my hair in a pony tail and reach above my head, if need be. The hardest part of travelling was actually using my camera – which I tend to hold in my right hand. Although not particularly heavy, my arm got tired very quickly and ached if I held it for too long.
I guess it served as a good reminder that I'm still healing and shouldn't overdo things.
Worst Part of Week 9: I kept forgetting to do the exercises set by my physiotherapist. With a busy home life and a baby, it constantly slipped my mind.
Tip for Week 9: Set a daily alarm to remind yourself to do your exercises – they're so important to your recovery that remembering them is a must.
Week 10: 80% Healed but Working on Strength and ROM
Although it initially seemed an age away when I first sustained the spiral and comminuted fracture to my humerus, somehow 10 weeks has come around incredibly fast.
My latest x-ray revealed I'm around 80% healed, with lots of 'fluffy' new bone forming, alongside some hardening of new bone. My arm feels stable, pain-free and almost normal; aside from when I try to do too much in terms of flexibility or strength work.
However, in terms of everyday activities, I can now do most things – something that felt unimaginable 10 weeks ago. I can look after my baby, pick him up, drive, dress, shower and prepare food. Yes, my arm absolutely needs to continue to heal – I need to build up strength again and improve ROM – but it's no longer limiting my life.
Verdict: How Long Did it Take for my Fractured Humerus to Heal?
I'd say it took 10 weeks for my fractured humerus to heal.
Now, I'll admit – even I'm surprised that it has healed as quickly as it did. Yet here I am, typing comfortably away on my laptop, having just bathed and put my baby to bed.
I'll never really know if it's luck or my own genetic make-up that's helped me heal this fast. However, something tells me that there are a few other factors at play.
When I first broke my humerus, I was told in no uncertain terms that it was a nasty and complicated fracture. The A&E consultant was convinced that it wouldn't heal without surgery – and natural healing would likely fail. Furthermore, I'd only recently had a baby and therefore my bones were likely a little brittle. I'd also suffered with anaemia for several months after the birth.
There was therefore nothing to really suggest that I would make a quick recovery; quite the contrary.
However, after a little research and having looked into the HUSH UK trial, I felt positive that my arm could heal naturally; something that could be aided by several other things.
I'm utterly convinced that Cissus Quadrangularis played a pivotal role in expediting my healing – and there are plenty of other reputable studies to support this hunch. I also stayed active throughout my healing journey; something which possibly helped in reducing swelling and maintaining some ROM.
Indeed, given that I knew I needed to start caring for my son fairly soon, I had to be ruthless when it came to ditching the sling and starting to move my arm (even though it was a little scary at the time).
Alongside this, I started moving my elbow just a few days after my accident (flexing it, with the help of my other arm) and started pendulum exercises at 4 weeks post break. This stopped any chronic stiffness setting in, which has no doubt helped things.
Fracturing your humerus is an incredibly challenging life event. It's a horrible, painful and difficult injury – and one that certainly took its impact on my own mental health. Furthermore, with a number of different variables regarding the nature of your fracture to take into consideration, alongside your own age and wellbeing, it's impossible to predict how your journey to recovery will go.
I'm very appreciative of the fact that mine has been a fairly 'easy' ride – even if I did spend the first fortnight in tears.
However, what I hope that this diary demonstrates is that with some positivity, determination and the right supplements – healing can, and will, happen. A fractured humerus will certainly test your mettle; but it's something you can come back from, all the stronger for it (as long as you remember your physiotherapy exercises).