With my due date fast approaching, I decided it was time to book a little 'babymoon'. I decided this suddenly over a bowl of porridge one morning, after realising that, thanks to Covid-19, I hadn't left the boundaries of my hometown in four months.
Before falling pregnant – and of course prior to the global pandemic – I'd always imagined a Sandals inspired Caribbean  sort of babymoon. One that featured sandy shores, luxury accommodation and plenty of (non-alcoholic) cocktails. Saint Lucia perhaps? Maybe even a cruise?
Unfortunately, as we all know, 2020 hasn't turned out quite as planned. With Covid-19 slimming down my babymoon choices quite considerably, it was time to rethink my 'dream' escape before pending motherhood began.
Caribbean beaches aside, I've (thankfully) always loved a cosy, UK break. In my opinion, there's nothing better than a wintery escape featuring roaring fires, a squishy armchair and mugs of steaming hot chocolate. With this in mind, I took to Instagram to ask for suggestions for a boutique, luxury Cotswolds hotel.
The recommendations came flooding in, but one particular hotel cropped up over and over again: The Lygon Arms in Broadway. Quickly punching its name into Google, I was met with images of elegant fireplaces, a serene looking spa and half-timbered walls.
Less than a week later and we set off for our two night babymoon at The Lygon Arms. Less than two hours from home, this felt like a relaxed – yet suitably indulgent – break. Despite not heading for the turquoise waters of the Caribbean, I was still incredibly excited.
Below is my review of our stay at The Lygon Arms, Broadway: a luxury escape in the heart of the Cotswolds.
The History of The Lygon Arms, Broadway
One thing that drew me to The Lygon Arms, Broadway, was the hotel's rich and colourful past. Dating back to the 1300s, the hotel has played host to prominent historical figures including Oliver Cromwell, who stayed at the hotel before the Battle of Worcester in 1651.
Originally named 'The White House,' The Lygon Arms, was, for centuries, a coaching inn that regularly welcomed members of the royal family, from Charles I to Prince Philip, and hosted celebrities such as Elizabeth Taylor and Roger Redgraves.
As the centuries have passed, the hotel has continued to grow and evolve into a luxury, yet superbly homely, stay.
Indeed, forget your cookie cutter luxury hotels, complete with gleaming marble and fancy lighting. The charm of The Lygon Arms is its quirky, ancient rooms filled with antiques, flickering fires and shadowy corners.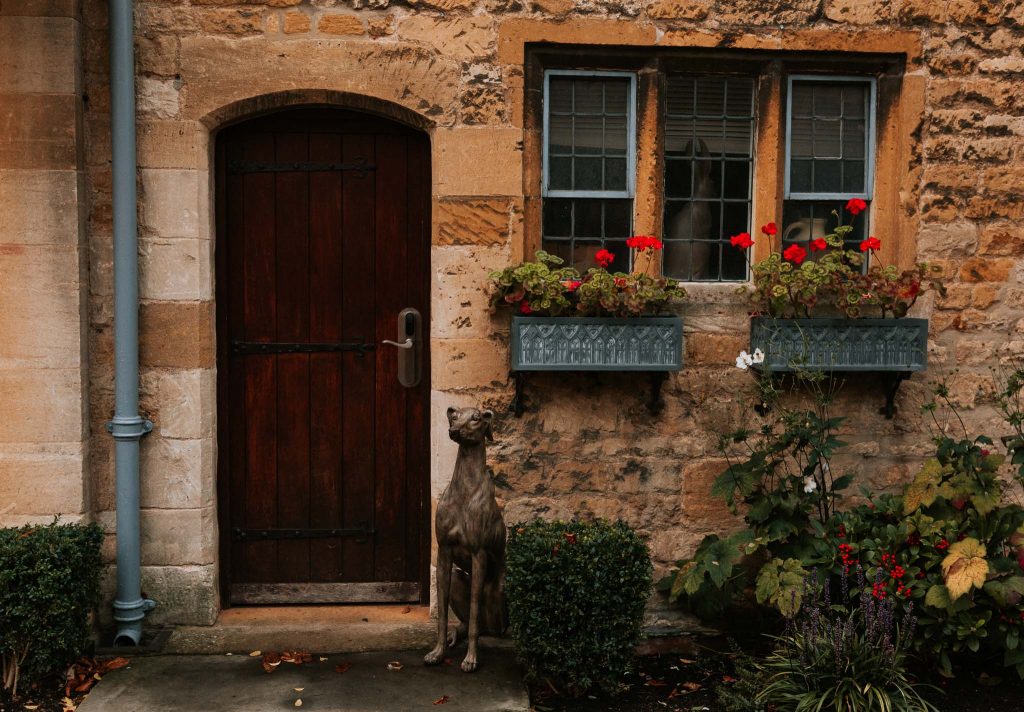 Accommodation at The Lygon Arms, Broadway
For a fairly small hotel, The Lygon Arms offers a surprising array of accommodation options. From 'cosy' coach house rooms, to master suites (which include the 'Charles I' suite that once housed – you guessed it – Charles I), there is a room to suit most budgets.
We opted for a Courtyard Deluxe Room, which offered peaceful views out across the leafy green courtyard below. For this room, we paid £315 a night (bed and breakfast rate), which while steep, was (we felt) justified given it was our babymoon.
Our room offered a king sized bed, antique furniture, a large bathroom with double sinks and plenty of space to move around.  The courtyard rooms are situated in a more modern extension of the hotel, with the suites and additional rooms located in the original house.
We did take a sneak peak at some of these rooms after dinner one night; the creaking staircase leading us to a suite tucked away in a corner of the building. I must admit, at night, with the autumn winds a'blowing, it felt thrillingly creepy tip-toeing around this ancient part of the hotel.
Due to Covid-19, I'd considered booking a suite so that we had more space to enjoy in private. On reflection, however, I'm pleased that we didn't (additional cost aside).  The hotel provided plenty of  public space downstairs that felt adequately socially distanced, all whilst remaining cosy and relaxing.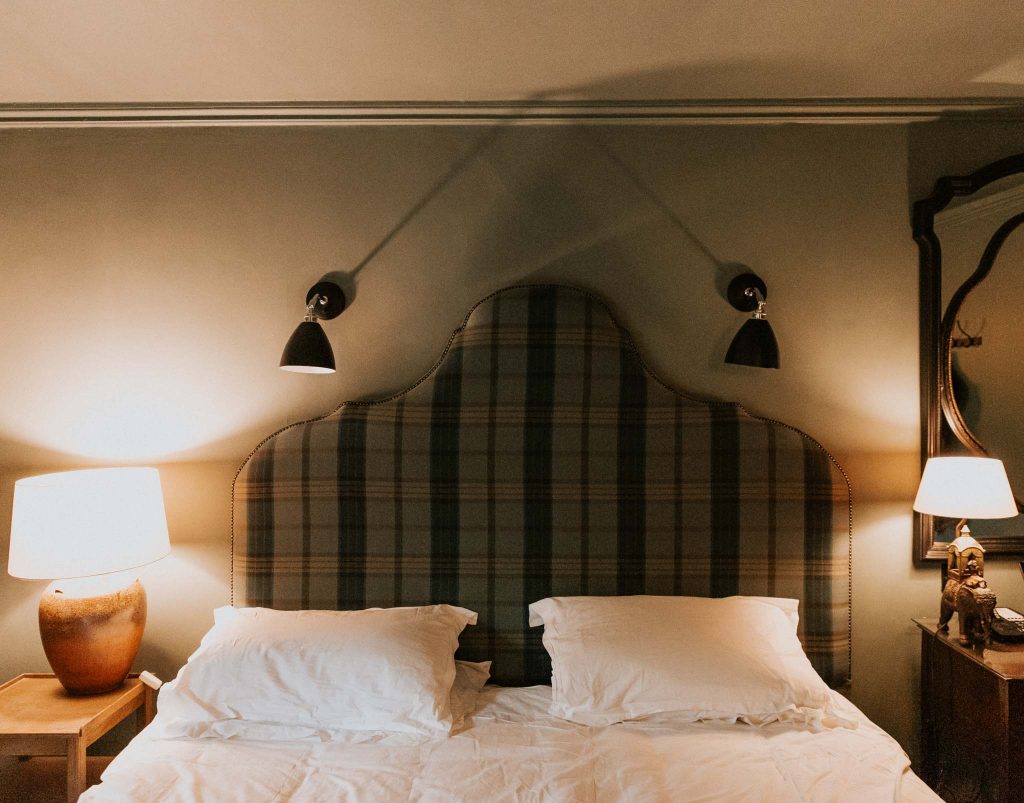 Dining at The Lygon Arms, Broadway
During our stay at The Lygon Arms, we enjoyed a bed and breakfast rate and also opted for dinner on our first night in the hotel's Lygon Bar and Grill.
Dinner was hosted in the former grand hall, which boasted walls heaving with portraits of former aristocrats, two roaring wood fires, large windows and sparkling chandeliers. Having spent nearly eights months in lockdown in an Edwardian terrace, this dining experience felt surreally beautiful.
The food was delicious, with all ingredients sourced locally. The staff were also extremely attentive, with one member spotting that I was pregnant and checking that I was happy with the 'runny egg' found in the middle of the scotch egg I devoured.
We decided to enjoy breakfast in the more serene, laid-back 'Russel Room' on both mornings of our stay. Due to Covid-19, the breakfast buffet was limited, with only closed goods such as cereal or pots of fruit available. As we'd booked the bed and breakfast rate, however, we enjoyed breakfast à la carte. Over the course of our stay, I treated myself to a 'full english', before swapping to fluffy french toast, complete with caramel sauce, honeycomb flakes and ice-cream.
Light snacks and drinks were also available throughout the day from the bar; something we also made plenty of use of.
Now satisfied by the sheer deliciousness of the food on offer at The Lygon Arms, I'm eager to return to try the hotel's famed Afternoon Tea, which I hungrily gazed at when passing through the Russell Room one afternoon.
The Spa at The Lygon Arms, Broadway
Although the Caribbean sunshine was but a distant dream, I was still keen to find a hotel that offered a swimming pool and certain level of pampering. Thankfully, The Lygon Arms offered just this.
The hotel's 13-metre swimming pool sits under a retractable roof and, during our visit, allowed for the autumnal sunshine to stream in. We were lucky enough to grab two sun loungers next to an almost empty pool and spent a tranquil few hours swimming and reading (not at the the same time, of course).
The spa also offers two treatment rooms and a nail bar.  Unfortunately, the pregnancy massage I'd booked was cancelled due to a therapist being off sick. I was offered a manicure or facial instead, but wasn't keen on either option. This was a disappointment, having booked the hotel especially for its spa, but I think a little flexibility (given Covid-19) is required at the moment.
I would definitely love to return, once the pandemic has passed, to enjoy one of the Spa Days on offer by the hotel.
Covid Precautions: only 12 guests are allowed into the pool area at one time, with a 'one in, one out policy'. The sauna and steam room are also currently closed.
Public Spaces at The Lygon Arms, Broadway
One of the most charming aspects of any stay at The Lygon Arms is its many cosy nooks and crannies, which guests are free to cosy-up in. From worn leather chairs by roaring fires, to soft velvety sofas perched by ancient windows, this hotel is a maze of private and hidden spaces.
I was a little worried, given Covid-19, that a lot of these spaces would be off-limits during our stay, but was (thankfully) pleasantly surprised. Although socially distanced, the hotel hadn't lost its charm in terms of its private spots, and there was still plenty of places to sit with a book or cup of tea.
There was one nook that was particularly sought after in the hotel: a small room with its own fire, armchairs and views out onto the high street. By sheer luck, I managed to grab this spot on our final night. As the fire flickered, and the gentle sound of laughter and chatter from the other guests travelled past, life felt almost normal again.
Clutching my cup of tea and staring into the dancing flames, I soaked up every moment of this feeling of normality. Incredibly thankful that we had decided to come away, I realised that we were still managing to create some 'special moments' in a year that's turned out to be anything but normal.
The hotel also offers a peaceful courtyard to enjoy and a garden (dog friendly) that comes complete with a swing. A champagne bar also opens on those warmer summer nights.
Dog-friendly Stays at The Lygon Arms, Broadway
Secretly, what I loved most about our stay at The Lygon Arms was the amount of furry friends that had also come to visit. Priding itself as being a dog-friendly hotel, The Lygon Arms makes staying with a pup a relaxed and welcoming affair.
Dog-friendly rooms are available throughout the hotel, which offer a dog bed, treats and bowls for both food and drink. The hotel also offers a garden for your four-legged friend to stretch their legs in and a 'hosing down station' after long muddy walks.
My favourite part, however, are the 'doggie dinners' available for guests dining at the hotel. For those with dogs who will be joining them for dinner, reservations are made in the Russell Room.
Things to do in Broadway, The Cotswolds
Located in the Cotswolds, in the county of Worcestershire, Broadway is a large, bustling and popular village to visit. Although we were only visiting for two nights (and planned to spend most of that enjoying the hotel and its grounds), we still enjoyed a few walks around this postcard pretty village.
Pottering around shops, enjoying hot chocolate in one of the many cafes in the village and gobbling up a true fish and chip feast on our final night, Broadway gave us plenty to do.
In fact, for a village, there's a surprising amount to see and do in Broadway. With many galleries to enjoy, independent shops and walks to explore (including to the nearby Broadway Tower), visitors can easily fill a few days here.
I would highly recommend Russels Fish and Chips for a traditional British feast for dinner. Although you can't book ahead, we managed to get one of the four tables they have available and enjoyed the most delicious cod and chips.
Exactly what you need before a cold, autumnal walk back to the hotel.
Find out more about Broadway and things to do in the village here. 
A Review of Our Stay at The Lygon Arms, Broadway
Reluctantly leaving the warm glow of the fire, we pushed open the door of The Lygon Arms and headed out into the cold afternoon air. Wrapping our coats around us, we were filled with a mixture of both happiness and disappointment as we said our goodbyes to the hotel.
Although our babymoon wasn't exactly what I'd envisaged, our two night break to The Lygon Arms provided us with exactly what we'd been missing for most of this year: a feeling of normality, hope and relaxation.
Despite a global pandemic, The Lygon Arms has succeeded in retaining its cosy and welcoming charm. Indeed, once cocooned inside its walls, the reality of 2020 soon slips away; something we all need to experience this year.