Where is Helsinki?
Before we begin this list of things to do in Helsinki in summer, let's get one thing out the way.
For most, Helsinki occupies something of a cultural – and geographical – grey area. Not quite Scandinavian, but undoubtedly Nordic; and not entirely Eastern European, yet tantalisingly close to Russia, you might be forgiven for being unable to place this European capital.
Helsinki is the capital of Finland – a country with an impressively complicated history. Once the property of Sweden, before falling to Russian rule, it finally declared its independence in 1917; crowning Helsinki its capital.
Far from suffering an identity crisis, however, this relatively new European capital quickly found its feet. In just a few decades, Helsinki became a self-assured, determined and unique city. It even found its own word: 'sisu' – a reference to the Finn's quiet, stoical grit.
With a passion for the nature filling it (and a determination to enjoy it, regardless of the weather) Helsinki is a place wedded to the great outdoors: filled with sea pools, saunas, acres of green parks and incredible architecture.
Because of this, it's also a wonderful European capital to visit during its long summer months – when Finland is enjoying its seemingly endless, white nights. In fact, we'd suggest that summer is the best time to visit Helsinki, when residents head outside to enjoy evening cocktails overlooking the Gulf and music concerts fill the leafy parks.
To help you plan this visit, below is our list of things to do in Helsinki in summer, including day trips to the surrounding islands and afternoons wandering the city's incredibly cool Design District.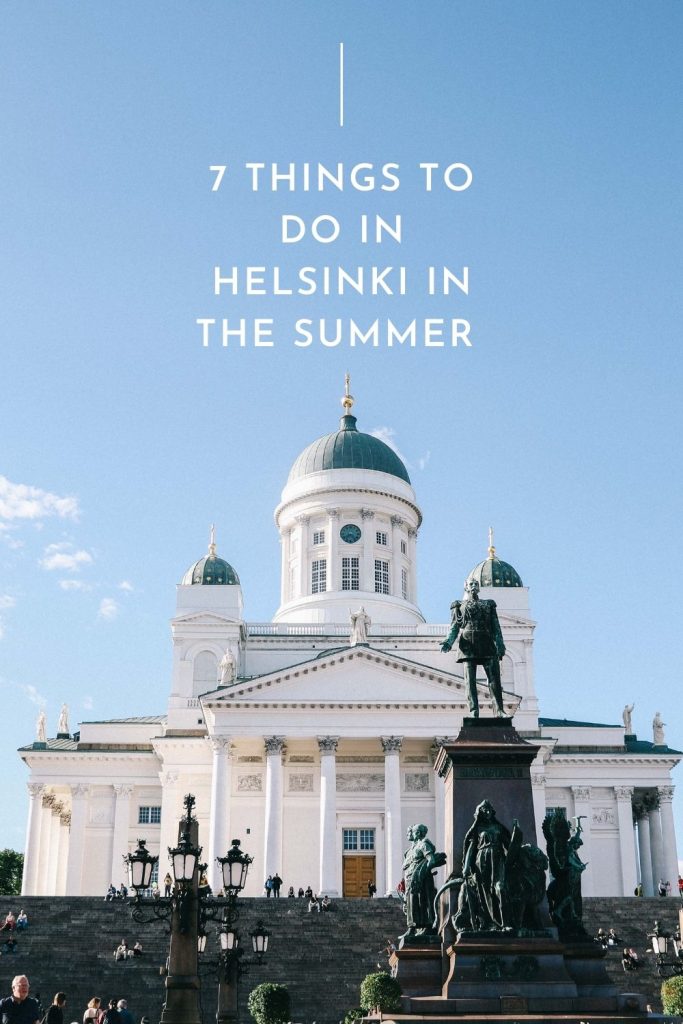 Things to do in Helsinki in Summer
There are plenty of things to do in Helsinki, particularly during the summer months.
Although the Finnish nation is only recently urbanised (most were living in small towns and villages until the nineteenth century), Helsinki is now crafting its own unique take on city life; blending nature with dynamic museums, a diverse food scene and endless creative outlets.
1. Enjoy a Finnish Sauna Experience
It's difficult to stress just how important saunas are to the Finnish nation.
Far from just a cultural thing – like a British cup of tea or a Spanish siesta – the sauna appeals to the Finns on an almost cellular level. Thirty-square-meter-apartments have saunas, Helsinki's Houses of Parliament boast them – there are even saunas inside the country's airports.
In terms of things to do in Helsinki in summer, I do appreciate that a hot sauna may not come top of your list – but bear with me. Once you've finished cleansing mind, body and soul inside these fragrant, cedar-wood shrines, you then get to plunge yourself into the cold, clear pools that sit alongside them.
It's an incredibly invigorating experience.
For the best saunas in Helsinki, be sure to visit both Allas Sea Pool and Löyly Sauna.
Allas Sea Pool
Allas Sea Pool is a sauna experience like no other. Positioned in the heart of the city, next to the Kauppatori marketplace, visitors here can experience the traditional Finnish sauna and bracing outdoor dip, all whilst absorbing the buzz of city life.
Alongside traditional wooden saunas and three outdoor pools (including one salt water pool), Allas Sea Pool also offers a beautifully designed restaurant and rooftop bar; a perfect place for evening drinks in the summer sun.
Concerts are also regularly held at Allas throughout the summer, alongside yoga and stretching classes.
Tickets for the pool and sauna begin at 15 euros (please note that the saunas will re-open in July 2022).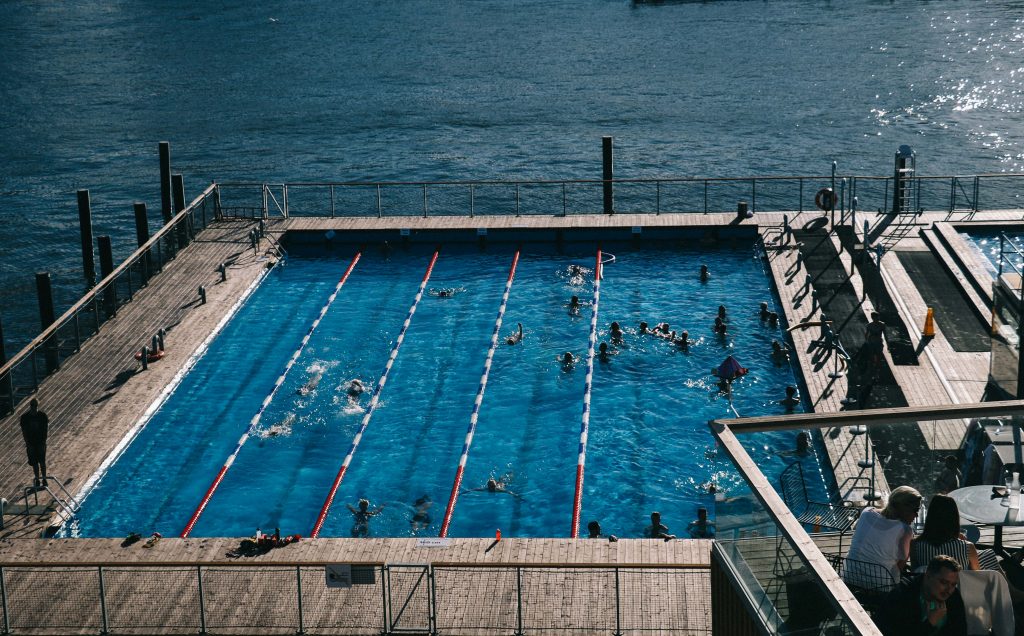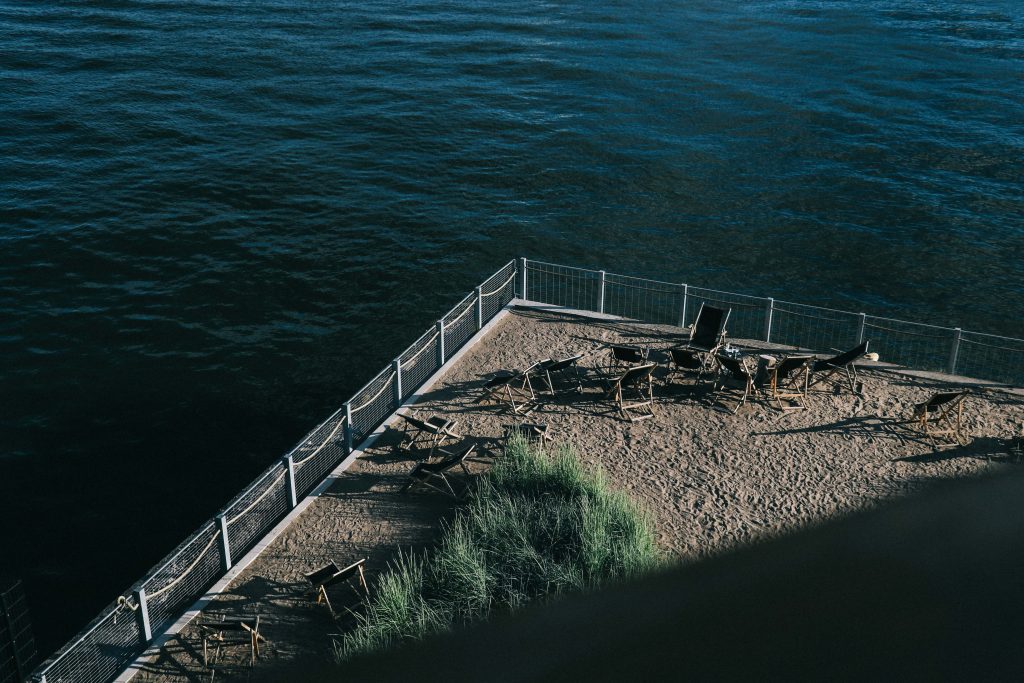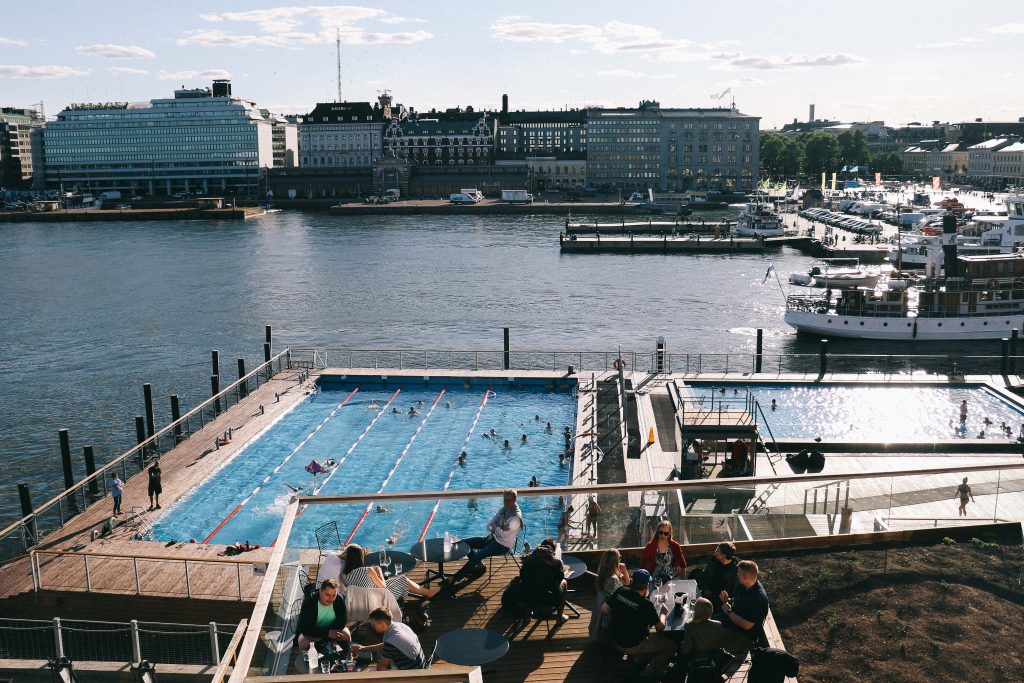 Löyly Helsinki
Löyly is one of Helsinki's most fashionable saunas, located in the south of the city – in the former industrial area of Hernesaari.
Inside, an open fire burns in winter, offering an inviting place to gather after a dip in the pool. During the summer months, crowds gather outside on the beautiful terrace, ready to celebrate Midsummer with a sauna and a swim.
Visit Löyly to experience three different sauna experiences (including a traditional smoke sauna). If you're visiting during the winter and feeling brave, then take advantage of the sauna's  'avanto': a hole in the sea's ice where heroic Finns take the plunge.
A two hour booking for the sauna costs 21 euros and includes a towel, seat cover, soap and shampoo.
In terms of things to do in Helsinki in summer, a trip here is a must.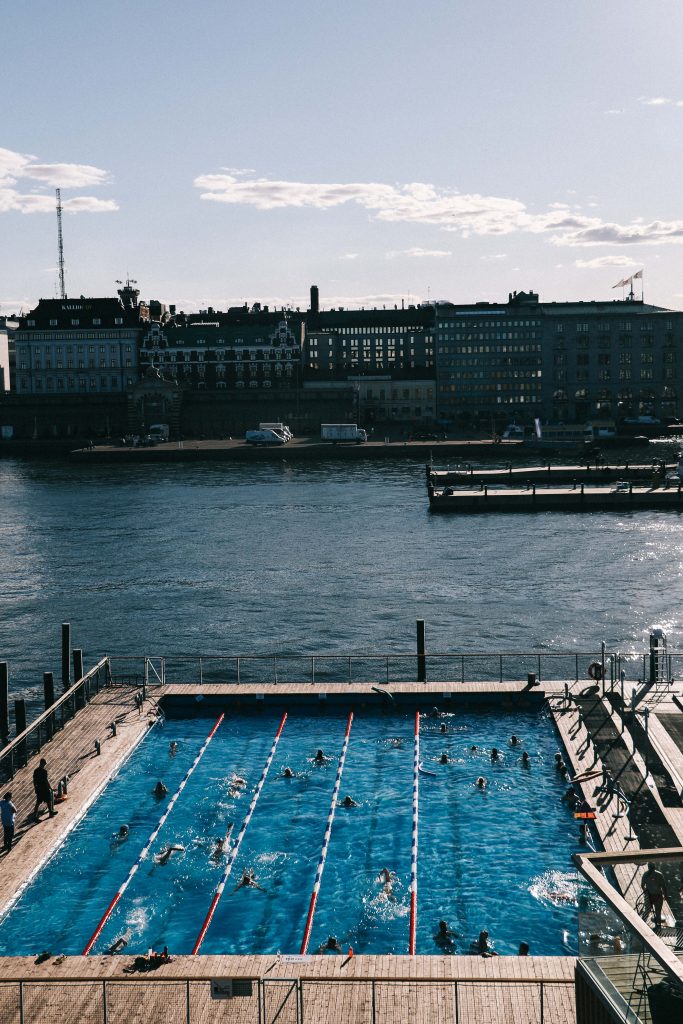 2. Island Hopping in Helsinki
When it comes to things to do in Helsinki in summer, island hopping comes top of any list.
Whilst Helsinki is backed by roaming forests and deep lakes, ahead of it is a sprawling archipelago that is easily accessed by the city's ferries and water buses. Consisting of around 330 different islands, this maze of waterways and green hills is absolutely beautiful to explore and something I'd urge any visitor to do.
Suomenlinna
By far the most popular island to visit is the former fortress, Suomenlinna – now a world heritage site.
It's incredibly easy to get to this pretty island – we were able to use our public transport tickets to travel on the municipal (HSL) ferry to get there. Located in the city's Market Square next to the harbour, the ferry is easy to find and travels 1 – 4 times an hour, taking just 15 minutes (the full timetable can be found here).
Alternatively, throughout the summer and autumn, a water bus operates, taking 20 minutes.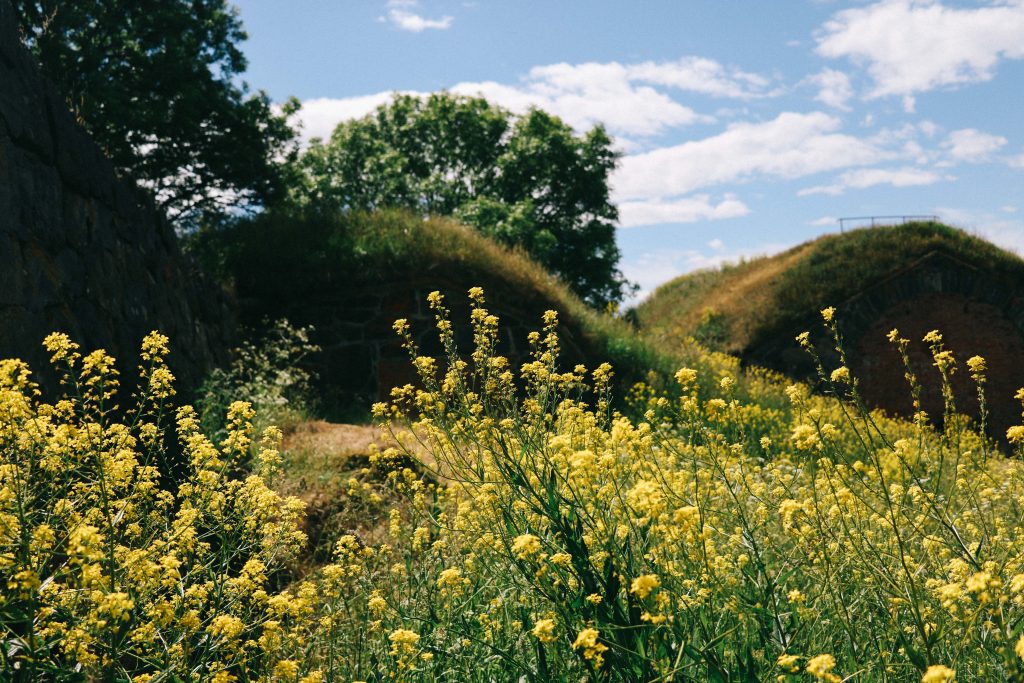 A popular tourist attraction, Suomenlinna has a complicated military history, belonging both to the Swedish and the Russians. Built originally in 1748, the island was called Sveaborg and was a bustling city of its own; albeit one surrounded by wolves. One local officer even reported that the wolves were taunting his pet bears.
By 1808, and now called Viapori, Russia lay claim to the island. Come 1917 and it was all change again, this time a newly independent Finland renaming the island Suomenlinna – or the 'Castle of Finland'.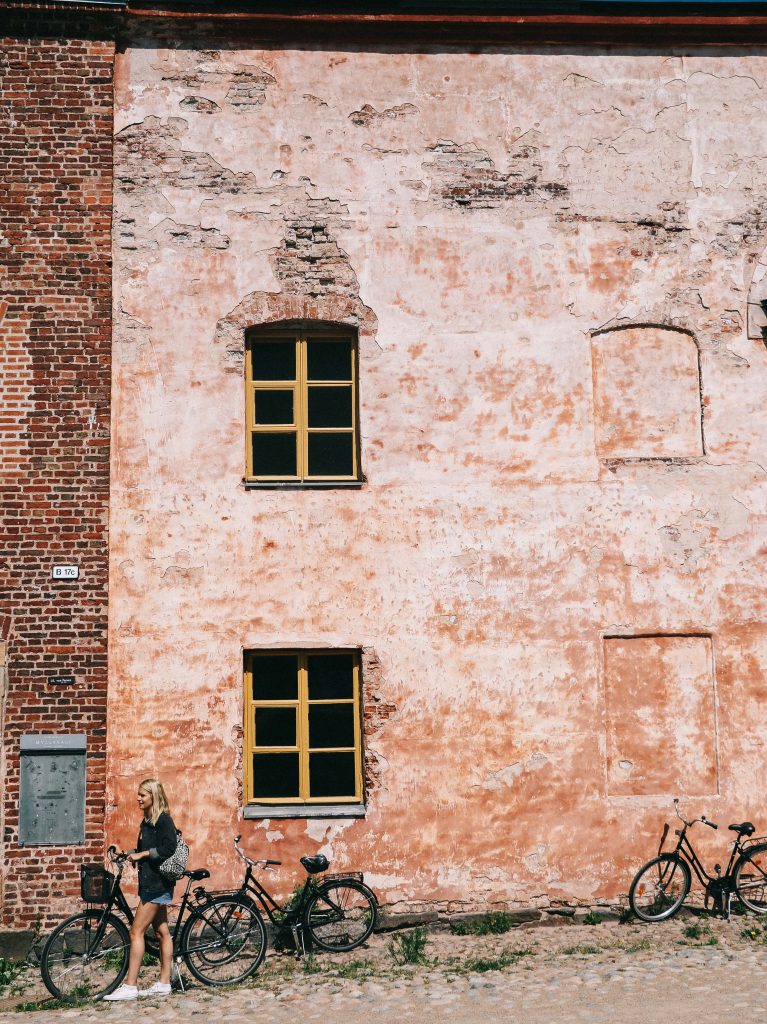 Now a UNESCO World Heritage site, with its very own community of residents, Suomenlinna is a flower-filled and quiet oasis. A favourite spot for Helsinki residents in the summer, we spotted families walking up into the island's rolling hills (formed by its many dungeons and canons) with picnics in hand – ready for lunch amongst the buttercups.
The island has a surprising number of restaurants and an easy walking route to follow, taking you through the fortress and its main sights.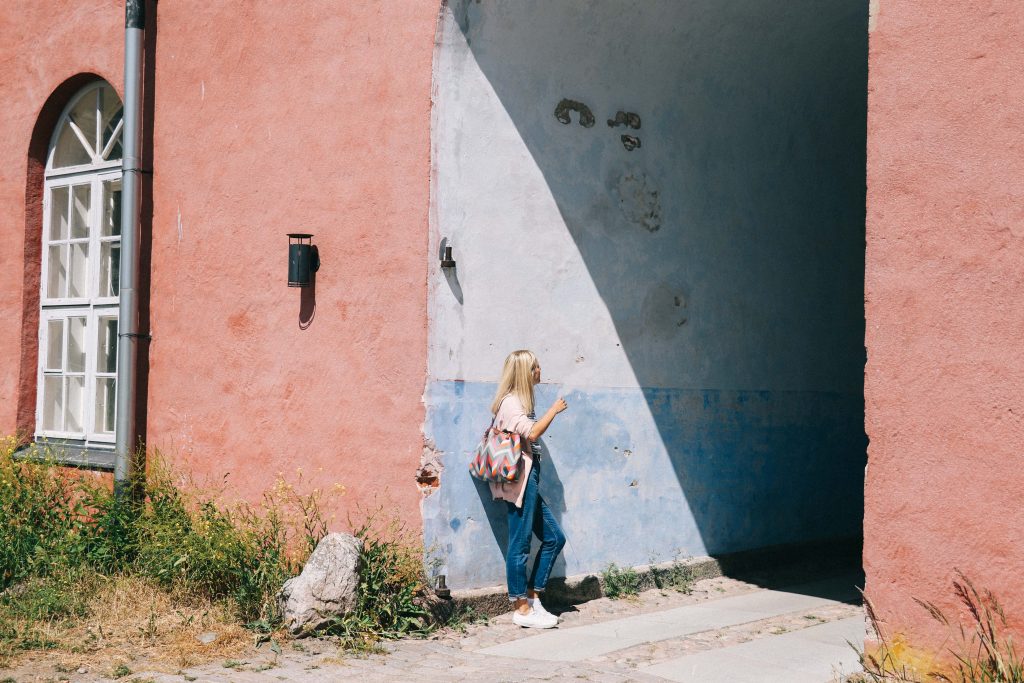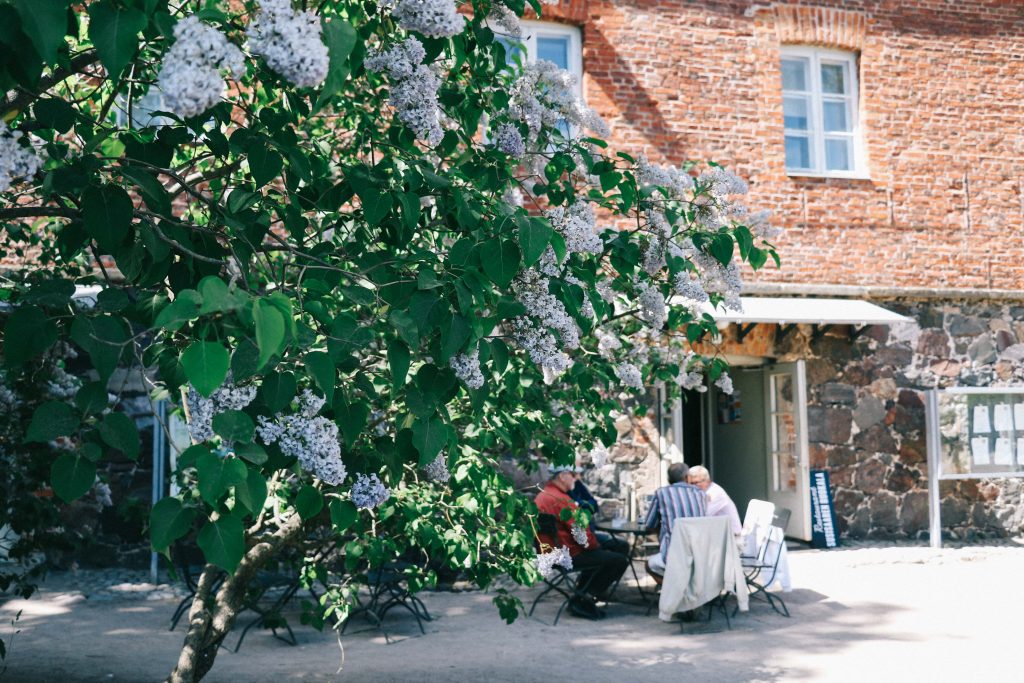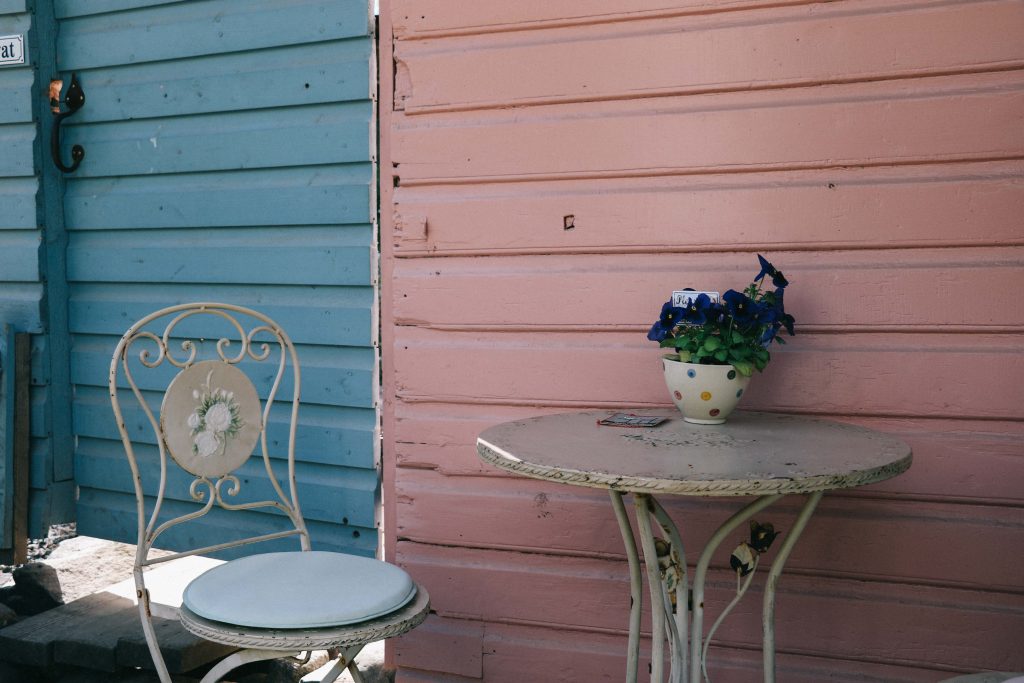 Lonna & Vallisaari
Aside from Suomenlinna, there are many other islands to visit when visiting Helsinki's archipelago.
Lonna is a tiny island featuring a beautiful little restaurant and café, just 10 minutes from Helsinki's marketplace. It's also home to a 5 star sauna – featuring both men and women's loft saunas, which are heated with wood burning stoves. Booking is essential and costs 19 euros for 2 hours – you can also hire a towel for 8 euros.
Vallisaari was originally a military installation and closed to the public. However, after the military left, the island was overrun by trees and flowers, resulting in a 'lost city' inspired landscape. There are two trails to follow – Alexander's tour (3km) and Kuninkaansaari Island tour (2.5km) – and a small restaurant in the harbour.
When it comes to things to do in Helsinki in summer, nothing beats a walk here – amongst the wild flowers and abundant birdlife.
3. Explore Helsinki's Design District
Helsinki is well-known for its flair for design – with Finnish, practical design enjoying popularity worldwide.
The city itself overflows with creative shops and outlets – particularly throughout its Design District, found in the south of the city, in Punavuori. Spanning 25 streets, the District brings together the city's leading designers, trend-setters and creatives: creating a vibrant neighbourhood filled with Finnish design.
For design and stationary lovers, I'd highly recommend visiting Butoni Design, the Papershop and the Republic of Fritz Hansen Store. For those looking for a slightly alternative museum experience, then Päivälehti Museum offers an excellent insight into all things media related, whilst Helsinki's Design Museum cannot be missed (tip: combine your ticket with the nearby Museum of Finnish Architecture – it's a better value way to see the two museums).
On a warm summer's day, there's nothing better than grabbing a cold, iced coffee and wandering this maze of streets and stores.
For those visiting Helsinki in summer 2022, this year the city is celebrating the fact that it's been ten years since it was the World Design Capital. More information on this can be found here.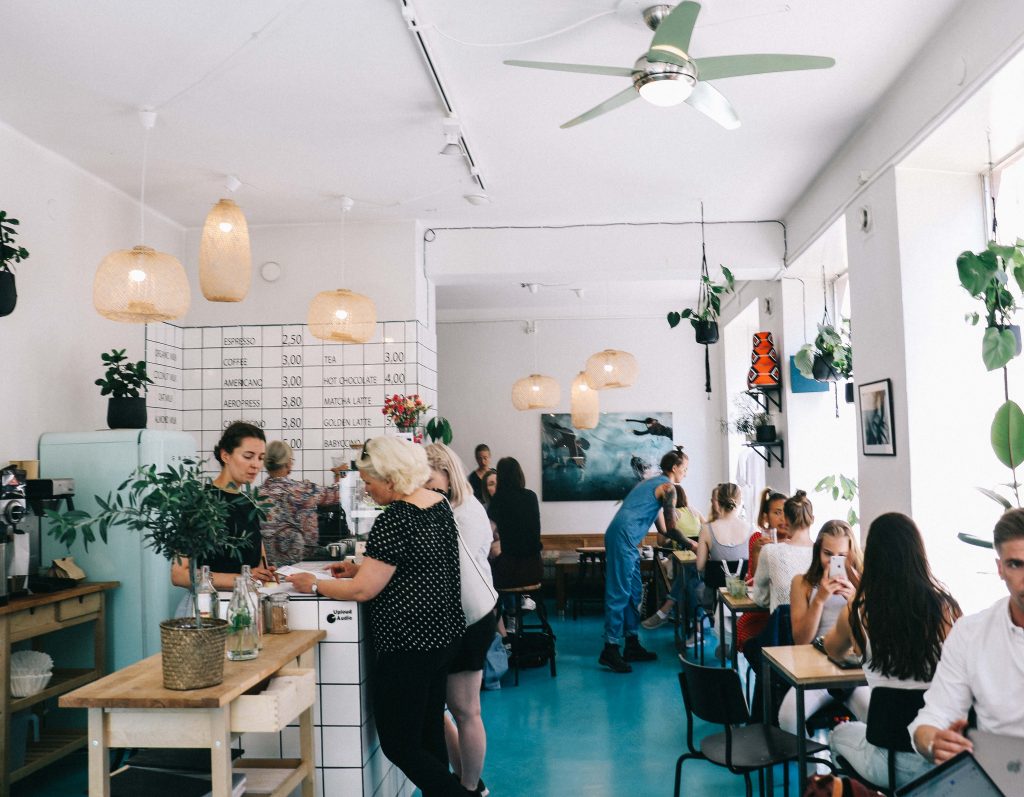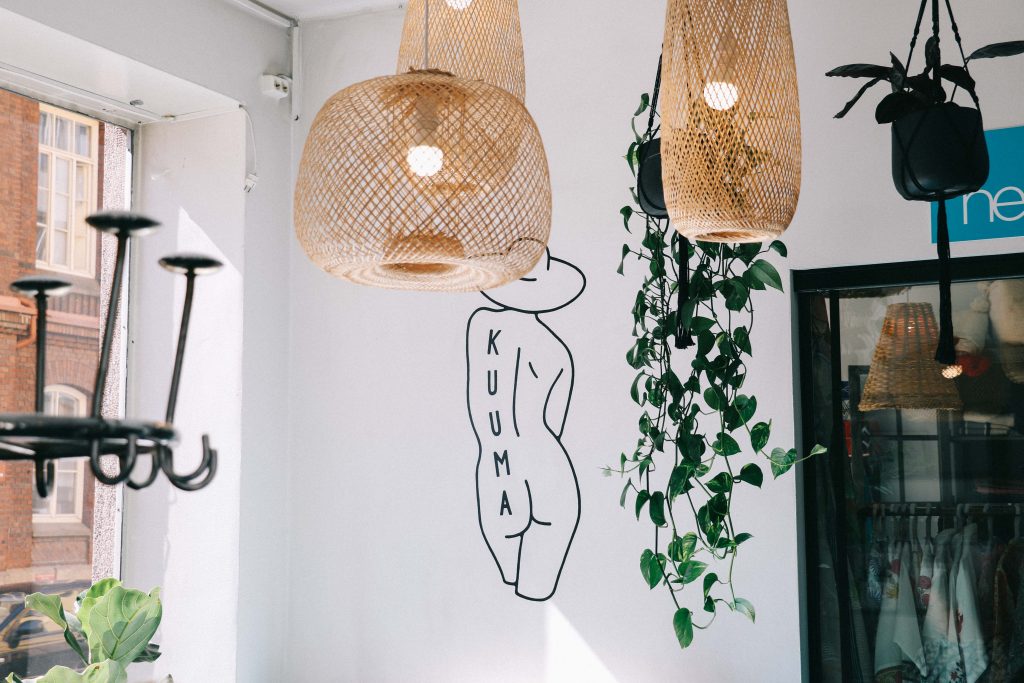 4. Enjoy Helsinki's Summer Cafes or 'Lippakioski'
As the summer months approach, a Finnish institution begins to emerge from hibernation: the lippakioski.
These small coffee shops and kiosks pop up across Helsinki as soon as the warm weather appears – filling street corners with brightly coloured and eclectic 'canopy kiosks'. There are an incredible number to choose from – each offering their own style of coffee and snacks.
Some great kiosks to visit are: the Way Bakery kiosk in the Bear Park (check out their incredible 'Maritozzi', or Italian cream buns), the very cute Munkkiniemi Kiosk and the Räty Pie kiosk.
Alongside these more seasonal kiosks are a huge swathe of permanent cafes, with a few cementing themselves as Helsinki institutions.
Cafe Regatta overlooks the sparkling sea in a part of Helsinki known as Töölö. Regularly appearing on Instagram, this historic building was built in 1887, before being restored as a cafe in 2002.
Famed for its delicious cinnamon buns, blueberry pie and sausages (grilled over its outdoor fire), we absolutely loved our visit here. In fact, we'd go as far to say that a visit here was one of our favourite things to do in Helsinki in summer.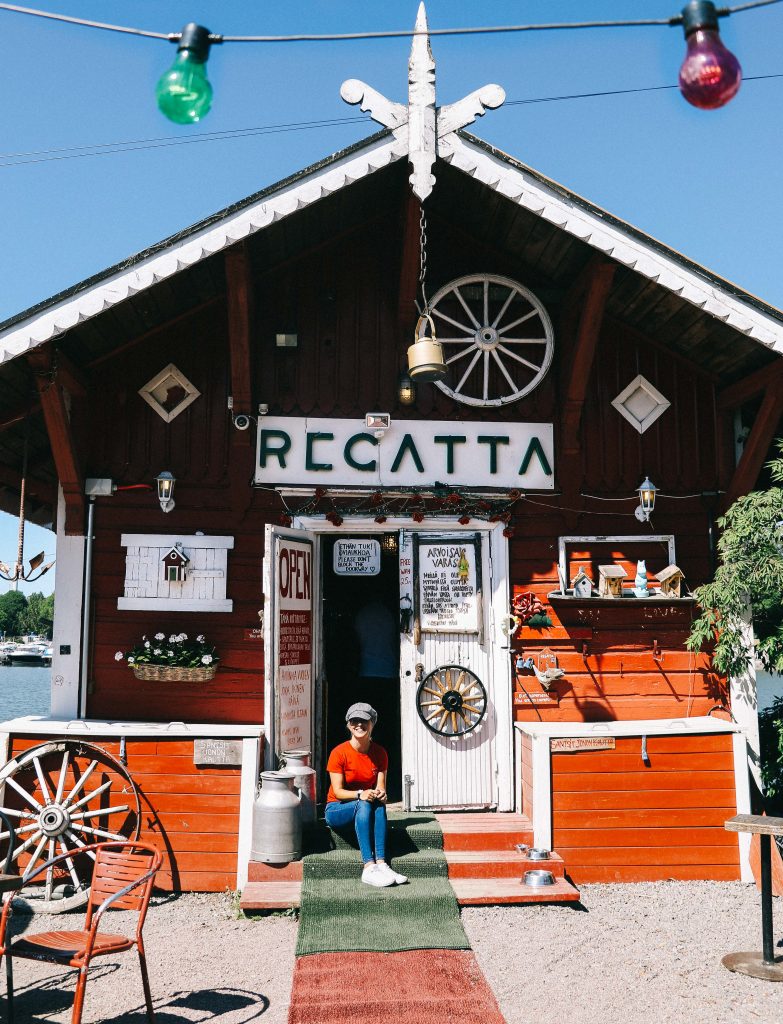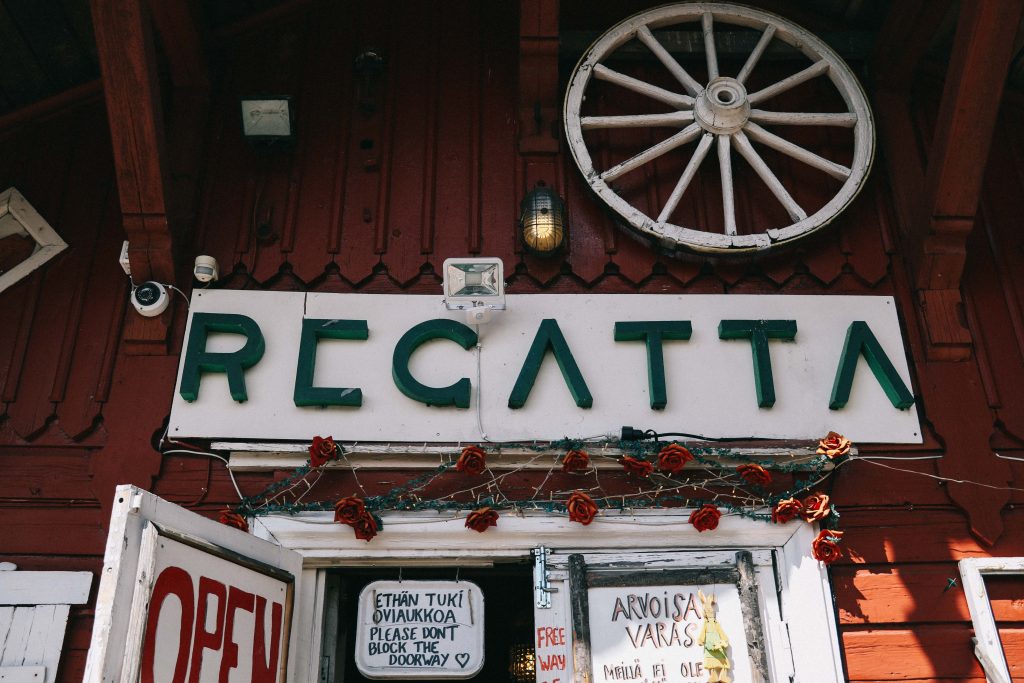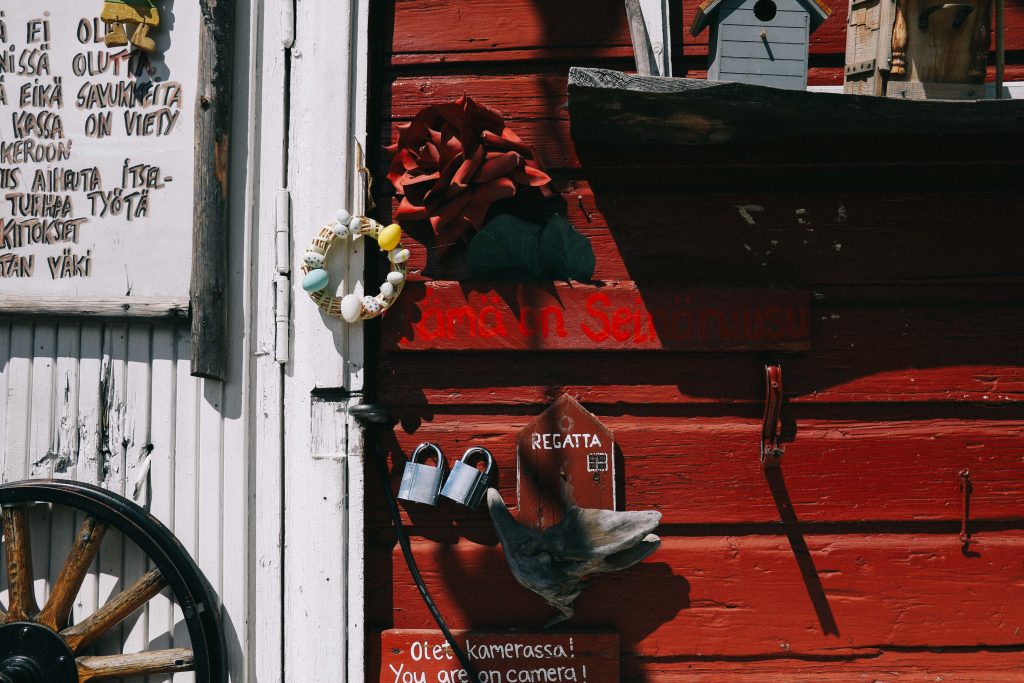 5. Visit a Moomin Cafe
The vision of Finnish artist, Tove Jansson, the Moomins are a Finnish institution. It would therefore be sacrosanct to leave Helsinki without first visiting one of its Moomin Cafes.
Helsinki has a number of these very cute spots. However, perhaps our favourite when we visited in 2018 was the café on Fabianinkatu.  Sadly, and following the pandemic, this cafe is now permanently shut – however, there are still other Moomin cafes to be found in the city.
The Moomin Cafe Helsinki, looks especially lovely. (Please note – as of May 2022, the Moomin Cafe Helsinki is temporarily closed. Please check it's open before visiting).
6. Camp on Pihlajasaari Island
When it comes to things to do in Helsinki in summer, one fun activity is to head towards the city's leafy islands, for a spot of overnight camping.
One of the most popular islands to camp on is Pihlajasaari Island, just a 10 minute ferry ride from the city (departing from Ruoholahti). Formerly a 'villa island' (a place for second homes), today Pihlajasaari is a haven for those who love the great outdoors; boasting several camp sites (complete with bathrooms, kitchenettes and playgrounds) and beautiful trails and beaches (including a naturist beach).
There are also two saunas on the island and a restaurant (and small cafe).
7. Explore the Vantaa River by Bike
On our last trip to Helsinki, we hired two bikes and followed the city's river – the Vantaa – up through the city. We hired our bikes via City Bikes, with a day pass costing just 5 euros.
We followed one of the routes suggested here – following the city's 'baana': a cycling and pedestrian corridor that weaves its way through the city. We stopped several times on our ride, grabbing a quick coffee in one of the many kiosks and exploring the various flea markets that we stumbled across.
It was the perfect summer's day activity and one we'd highly recommend.